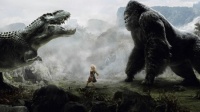 San Diego Comic-Con News:
Legendary Entertainment announced it is filming a movie based on Skull Island
,
the home of King Kong, which will release November 4, 2016.
The announcement came at the end of the of the film company's Hall H panel, which also featured the announcement of
Godzilla 2
(see "
Rodan, Mothra, & King Ghidorah Set for 'Godzilla 2'
"). Legendary teased in a statement, "Previous works have touched on the island, but staying and exploring this mysterious and dangerous place offers Legendary the opportunity to take audiences deeper inside this rich world with a style and scope that parallels other Legendary productions."
Here's hoping that since Legendary currently has rights to both King Kong and Godzilla, Toho Studios will be impressed enough to allow them to do a new version of the 1962
King Kong vs Godzilla
in the future.