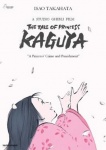 Studio Ghibli has released a U.S. teaser trailer for Isao Takahata's
The Tale of Princess Kaguya
, an animated film that debuted in Japan last year, and that will be released in the U.S. on October 17th.
The teaser trailer shows the more impressionistic, rough watercolor animation style of the film, which is in stark contrast to recently-retired Hayao Miyazaki's well known animation style. Takahata is best known for his films
Grave of Fireflies
and
My Neighbors the Yamadas
with Ghibli, so while there is no real plot revealed in the teaser, viewers should trust that there is an epic story behind the first view.
The second international preview is a rather extensive look (6 minutes) at the life of Kaguya, though there is no dialog, and the pacing is slow and atmospheric.
The story is based on the Japanese folk tale, the Tale of the Bamboo Cutter, in which an old man finds a tiny princess in a glowing stalk of bamboo. He takes her home, where she transforms into a human infant, and her new parents name her Princess (Kaguya). When the woodcutter later finds a wealth of gold and cloth in the bamboo patch, he's convinced of Kaguya's royal lineage, and he moves the family from the forests to the capital to find Kaguya a suitable husband. Kaguya attracts prestigious suitors, but has no interest in them, and asks for impossible marriage gifts as a way to rebuke them. Eventually, her beauty attracts the notice of the Emperor.