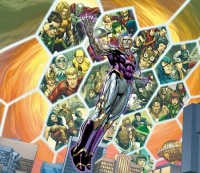 DC Entertainment has finally released details on Convergence, the two-month publishing event it plans to use to cover the months when it is moving its editorial staff to Burbank next spring (see "DC's Nelson: 'Practically We will Not Be Missing Out on Anything'"). The event will consist of a weekly series and 40 two-part miniseries, launching in April.

The event will include facets from every era of DC's multiverse, and corresponds with the end of the weekly The New 52: Future's End, and Earth 2: World's End series (see "Three DC Weekly Series Will End in March of 2015"). The story will take place outside space and time, on the question mark below Earth 29 and above Chaos, on the map of the Multiverse, and introduce the new villain Telos.

The weekly nine-part Convergence comic book series will be written by veteran TV producer and writer Jeff King (Continuum, White Collar, Total Recall 2070).

Releasing on April 1, Convergence #0 will be co-written by King and Dan Jurgens (The New 52: Futures End), with illustrations by Ethan Van Sciver (Flash: Rebirth, Green Lantern: Rebirth). Convergence #1 -8 will be written by King, with art by Carlo Pagulayan (Emma Frost, Elektra, Planet Hulk) and Stephen Segovia (Dark Wolverine, Reign in Hell). Covers will be provided by Ivan Reis (Green Lantern, Aquaman) and Joe Prado (Battlestar Galactica, Green Lantern/Sinestro Corps).

Talent for the 40 two-part miniseries will be announced in the coming weeks.

DC is putting on a brave face on the move to Burbank, which it will have been planning for over a year. By using this publishing stunt outside of its regular continuity, it plans to minimize the effect on any ongoing series and give its editorial staff plenty of time to relocate.

Asked whether he was happy with the way the move was shaping up, DC Co-Publisher Dan Didio was philosophic in an interview with ICv2 last month (see "Interview with Lee and Didio").

"You have to have a certain attitude about looking forward and the challenges it's going to bring," he said. "There is a certain melancholy that comes on because some of the people that you've worked with for an extraordinarily long period of time, extraordinary contributors, won't be there. Like any company, like any business, even our characters, we have to bring change to it, and we have to make the change good and exciting for all of us. We have to grow and be as competitive as we've always been."