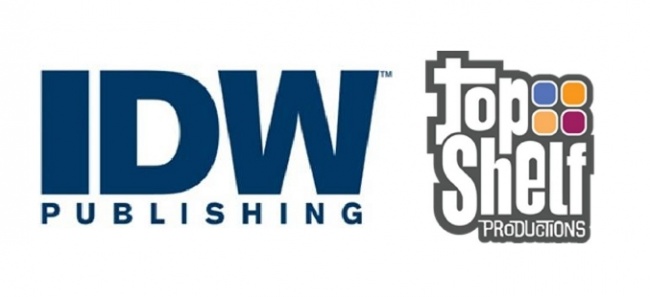 IDW Publishing has acquired Top Shelf Productions, and will continue to publish books under the Top Shelf imprint with Top Shelf co-founder Chris Staros as its editor-in-chief, the companies announced today. The deal was facilitated by former Diamond Comic Distributors VP-Purchasing Bill Schanes (see "
Schanes Stepping Down at Diamond
"), who was retained by IDW in 2014 to investigate acquisition opportunities. Staros was ready to sell; he said he was about to approach IDW to propose a deal when IDW CEO Ted Adams and COO Greg Goldstein approached him.
Top Shelf has always been great at finding and developing talent, but sometimes found that talent going to bigger publishers after their Top Shelf books hit it big. Craig Thompson was perhaps the best example of that phenomenon. His Blankets, published by Top Shelf, won the Harvey, Eisner, and Ignatz awards for "Best Graphic Novel" in 2004, but Thompson took Habibi, his next work, to prestigious Random House literary imprint Pantheon in 2011 (see "Craig Thompson's Habibi Due Sept. 20th"). IDW should give Top Shelf more of the financing, distribution, international, media licensing, and marketing reach that it needs to stay competitive for top talent.
IDW clearly recognizes the value of the Top Shelf brand. "IDW is committed to preserving and growing the Top Shelf brand, which we've long admired," IDW COO Greg Goldstein said.
IDW CEO Ted Adams sees the role that Top Shelf can play in building IDW's broad-ranging portfolio of comics and graphic novel properties, by strengthening IDW's presence in creator-driven graphic novel publishing. "We looked a very long time for a company that would complement our own publishing line-up, and in Top Shelf we found the ideal match," he said. "The addition of Top Shelf's library further positions IDW's leadership role among the top powerhouses in comics."
Top Shelf's Staros is looking forward to the publishing opportunities IDW's infrastructure and support will bring. "I'm extremely excited to combine their talents and resources with Top Shelf's award-winning literary approach to comics," he said. "Together, we're going to publish some incredible work."
The subtext of the announcement indicates that financing was an issue for Top Shelf, one that IDW intends to turn into an asset. "IDW will provide additional funding to secure new breakout projects," the announcement said. Ensuring that backlist is always available and that "all creators receive royalties on the solid schedule IDW is known for" were also cited as benefits of the acquisition.
Staros's partner Brett Warnock is retiring from comics, but Top Shelf Publicity and Marketing Director Leigh Walton, Lead Designer and Digital Director Chris Ross, and Warehouse Manager Zac Boone will stay with Top Shelf under its new ownership.