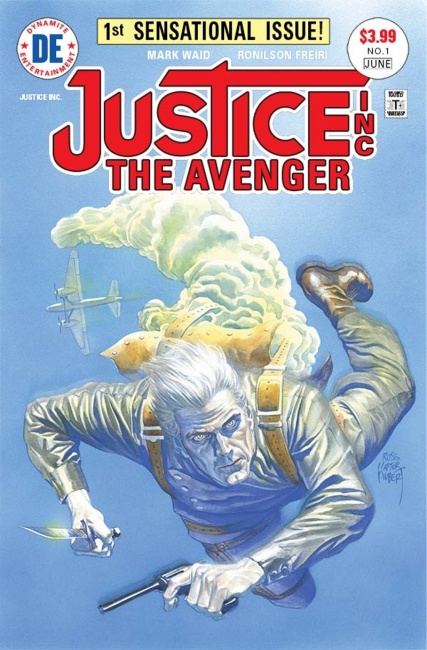 At the ComicsPRO Annual Meeting, Dynamite Entertainment announced two new summer titles:
Justice, Inc,: The Avenger
penned by Mark Waid, and a new
Red Sonja/Conan
miniseries.
Launching in June,
Justice, Inc,: The Avenger
will be written by Waid (
Kingdom Come, Daredevil
), with art by Ronilson Freire (
The Green Hornet
). Issue #1 will feature variant covers by Alex Ross, Walter Simonson, Francesco Francavilla, Marc Laming, and Barry Kitson.
A classic pulp comics hero, The Avenger debuted in September 1939, with Paul Ernst (under the pseudonym Kenneth Robeson), penning many of the early stories. The Avenger is wealthy industrialist Richard Henry Benson, whose face is disfigured in a criminal attack. Benson finds he can remold his features into any face, and becomes the vigilante and master of disguise known as The Avenger.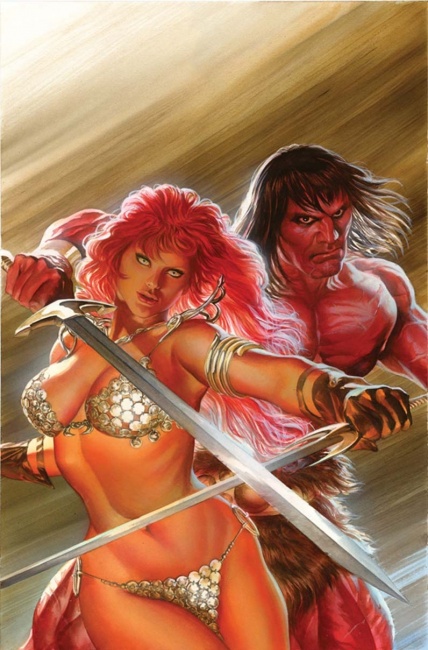 Dynamite plans to release
Red Sonja/Conan
, a new miniseries written by Victor Gischler (
Conan: The Phantoms of the Black Coast, The Shadow
) with art by Roberto Castro (
Lords of Mars, Lord of the Jungle
). Issue #1 will feature cover artwork by Alex Ross, Ed Benes, and Roberto Castro. Specific release date was not announced.
Following a year after Dark Horse's current
Conan/Red Sonja
series, the pair is reunited during an impromptu tournament of arms. However a supernatural menace suddenly appears and the warriors must face down a horde of demons.
Dynamite also announced a new ongoing
The Spirit
series by Matt Wagner this week (see "
'The Spirit' by Matt Wagner
"
).
See previews and covers for both series in the gallery below.