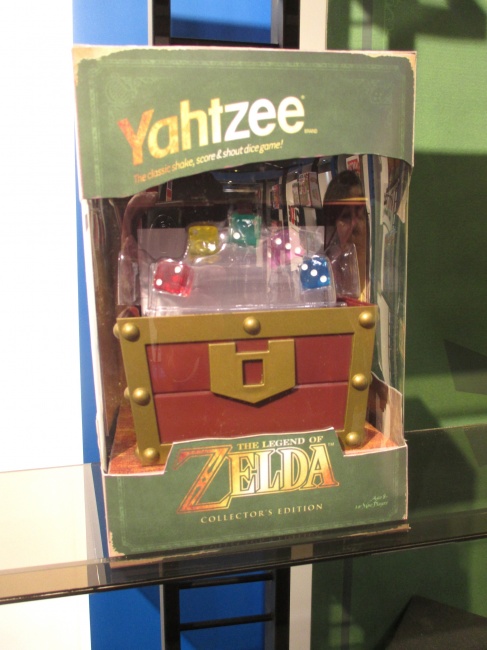 USAopoly will be adding several licensed versions of
Yahtzee
to its 2015 lineup, as well as
Munchkin Zombies: Walking Dead,
and new licensed versions of
Cranium, Trivial Pursuit, Risk,
and
Clue.
Yahtzee: The Legend of Zelda
is planned for late spring release, and will feature a treasure chest dice cup, and multi-colored dice. MSRP was not announced.
Additional licensed collector
Yahtzee
versions for
Jaws, Terminator, and Back to the Future.
The
Terminator
and
Back to the Future Yahtzee
cups each feature special light-up effects.
Yahtzee: My Little Pony--Rainbow Dash
is also planned, but pictures were not available.
The company plans several Marvel Cinematic Universe licensed releases for 2015. On display were the two
Yahtzee: Avengers Age of Ultron
editions--
Iron Man
and
Ultron.
Both will release around the time of the movie premiere. Also in the works for summer release are Marvel Cinematic Universe versions of
Risk
and
Trivial Pursuit
. "The whole Marvel Cinematic Universe will be encompassed in the
Risk
game, and also in the
Trivial Pursuit
edition," USAopoly Marketing Manager Cindy Saylor told ICv2. Pictures and specific release information were not yet available.
TACDEX: Super Mario
is due this winter. "This is the only
Super Mario
card game out there," Saylor said. "It's very similar to playing
War
, but it has a battle marker that allows you to suddenly change the game dynamics from 'win with a high card' to 'win with a low card.'" The game is for two players, ages 8 and up. MSRP is $9.95.
Clue: Penny Dreadful
is based on the Victorian series on Showtime. It will have custom illustrations from locations from the show. The game is for players ages 17 and up, and is planned for spring release. MSRP is $39.95.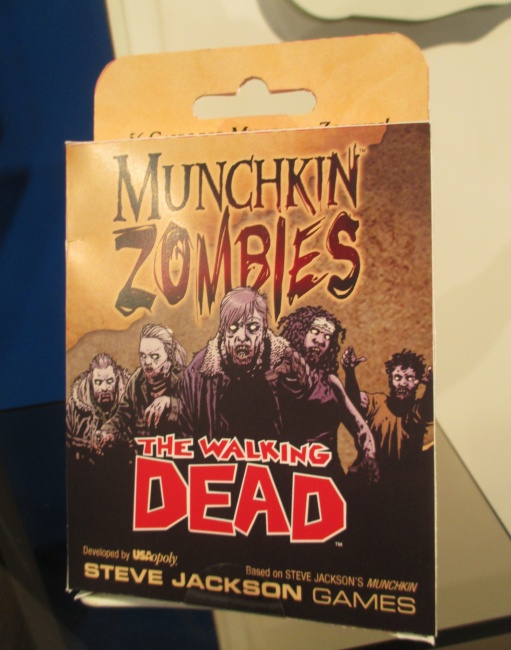 Munchkin Zombies--The Walking Dead
expansion is planned for summer release. In the fall
Munchkin--Nightmare Before Christmas
will also be released. "That will be a new full
Munchkin
game we're adding," Salyor said. USAopoly also announced two new additions to its
Bang!: The Walking Dead
products offerings this year (see "
More 'Bang!: The Walking Dead' Releases
"
).
The company will release
Trivial Pursuit: World of Harry Potter Edition
this spring. "All the content has been vetted by J.K. Rowling, so it's terrific for the Potter fan," Saylor said. MSRP is $19.95.
The new edition of
Cranium: Disney Collector's Edition
due this summer will feature updated content from the film
Frozen
. MSRP is $29.95.
See the Gallery below for images.