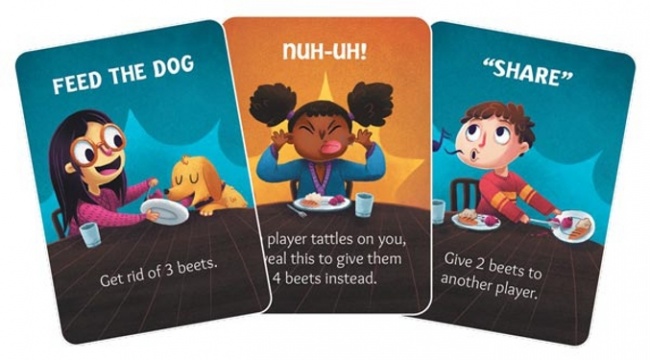 Stone Blade Entertainment has announced the release of
Bad Beets
, its first physical card game product outside the
Ascension
deck-building game, for Summer 2015.
Designed by Justin Gary (
Ascension, Redakai
),
Bad Beets
is a family-friendly, bluffing card game where players must eat their vegetables. Players start with eight Beet cards that they must finish before they can leave the dinner table, and they can get rid of them in a variety of creative ways: Feeding the Dog, Sharing, or Eating Them. The first player to successfully finish their beets wins.
The game is for 2 - 5 players, ages 8 and up. The game plays in 10-15 minutes. MSRP is $14.99.
Stone Blade Entertainment's other non-
Ascension
release is the digital-only trading card game
SolForge,
which it produced with Richard Garfield in 2012. Stone Blade's latest
Ascension
release,
Dawn of Champions,
will arrive this month (see "
'Ascension: Dawn of Champions'
").