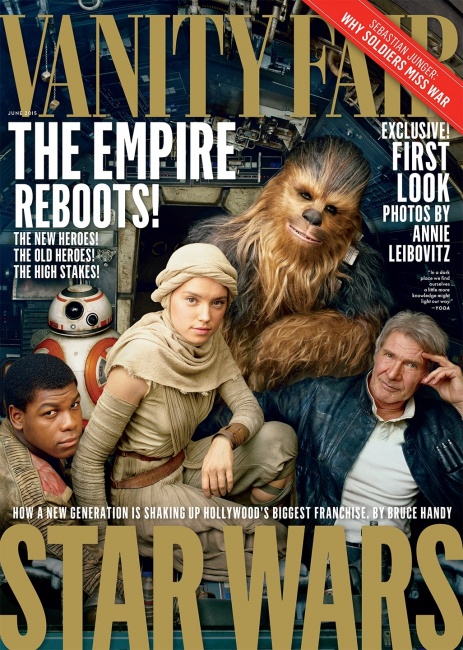 The June issue of
Vanity Fair
will feature a cover story including set photos from
Star Wars: The Force Awakens.
In honor of May the Fourth, the magazine revealed several of the photos
online
, taken by famed photographer Annie Leibovitz, which included information on some of the younger cast members.
(Click imge for larger view.)
The Star Wars Celebration already revealed three characters: Ray (Daisy Ridley), Finn (John Boyega), and Po (Oscar Isaac) (see "'Force Awakens' Panel Reveals"). The additional photos (see gallery below) reveal that Adam Driver will be playing Kylo Ren, the wielder of the much-discussed three-pronged light saber in the teaser trailers (see "New 'Star Wars: The Force Awakens' Trailer"). Lupita Nyong'o will play Maz Kanata, a CG pirate character of unknown affiliation, based on the motion capture image posted, as well as an additional photo that shows assorted galactic travels and rogues gathering in the main hall of her castle.
The article also reveals that the Rebel Alliance is now known as the Resistance.