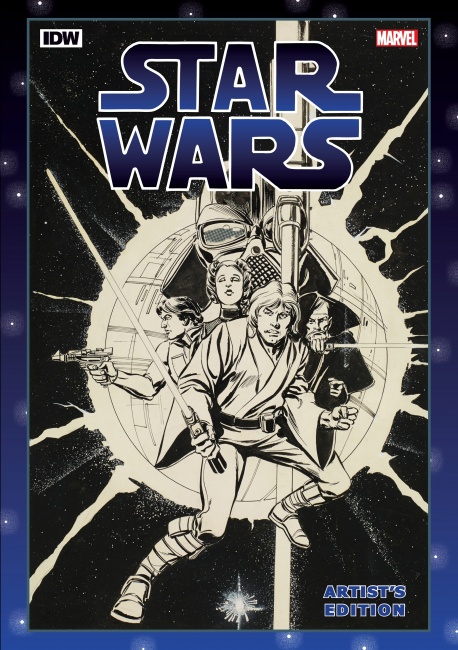 IDW Publishing has announced a partnership with Marvel to produce Artist's Editions and Micro Collectors Fun Packs for the classic
Star Wars
comics.
(Click image for larger view.)
The oversize Artist's Edition line presents complete stories with each page scanned and printed directly from the original comic book art and printed at full size. IDW has partnered in the past with Marvel to produce Artist's Editions for Walter Simonson's The Mighty Thor, John Romita's The Amazing Spider-Man, and David Mazzucchelli's Daredevil Born Again. Now Marvel Comics' 1977 Star Wars will be added to the collection. MSRP and release date were not announced.
IDW will also bring the original Star Wars comics to its Micro Collectors Fun Pack line, a product it pioneered in 2013 with My Little Pony (see "'My Little Pony Micro Fun Packs'") and quickly expanded to include all-ages titles including Teenage Mutant Ninja Turtles and Skylanders (see "'Skylanders' Comic Series and Micro Fun Packs"). The product will include a full-length, pocket-sized comic book story from the Star Wars classic comic series (see "Marvel Kicks Off 'Star Wars' Program"), as well as exclusive inserts including posters, standees or stickers. Planned for Fall 2015 release, the Micro Collector Fun Packs will be available at comic shops, Target and Toys 'R' Us.
The expansive, multi-platform publishing program "The Journey to Star Wars: The Force Awakens" from Disney Publishing Worldwide that bridges the gap between Return of the Jedi and Star Wars: The Force Awakens (see "New 'Star Wars' Comics, Books Bridge Gap Between Movies") will launch on September 4 with the Aftermath: Star Wars prose novel, and the first comic, Shattered Empire, also planned for September release (see "First Cover for 'Star Wars' Bridge Comic").