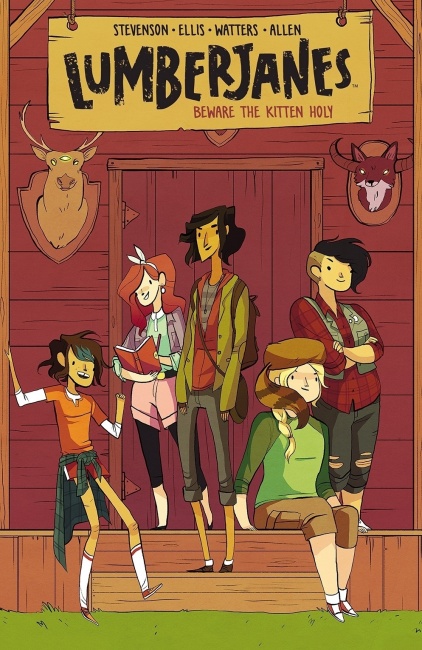 In conjunction with ICv2's "Grow the Business with Kids" event, we caught up with BOOM! Editor-in-Chief Matt Gagnon, and talked about the sales patterns on titles in BOOM!'s KaBOOM! kids imprint, the tipping point that
Lumberjanes
seems to be reaching, and what's happening with
Peanuts
in the run-up to the movie.
What are your bestsellers in the KaBOOM line?
KaBOOM!'s been doing really well for us this year. There's a handful of items that make up the cornerstone of that imprint, and one of them is the Cartoon Network titles. Adventure Time, Regular Show, Steven Universe, Clarence, and the Over the Garden Wall book that tied into the special—all the Cartoon Network stuff continues to do well for us.
What's the best selling among the Cartoon Network properties?
Adventure Time continues to be a phenom. It's kind of a special book for us. We publish two single-issue series a month of Adventure Time. We also have original graphic novels that are distributed through the direct market and book store market as well. The Adventure Time graphic novel has performed really well for us in the book market.
The second item that's one of our foundational items of the imprint is Peanuts. It's the 65th Anniversary of Charles Schulz' Peanuts so what we're doing is a tribute hardcover where we're having tons of different creators contribute. It is kind of one big love letter to Charles Schulz and his creations (see "BOOM! Plans Schulz Tribute Book"). That one is interesting. We just had The New York Times do a piece on it. We got contributions from Lincoln Peirce who's a New York Times bestseller of the Big Nate series, Raina Telgemeier, Patrick McDonnell from Mutts, Matt Groening, Stan Sakai, Tony Millionaire, Paul Pope, Jeff Lemire, just a really amazing line-up of creators that are showing up and want to show their affection for Charles Schulz and all of his works.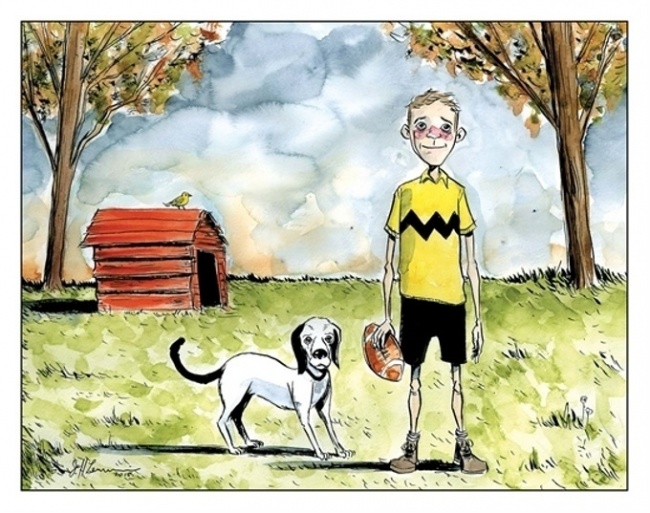 This might be one of the most impressive things that we publish all year. It's going to be a hardcover that's printed in landscape format, 112 pages. Each contributor that contributes a page is also writing a small text piece about what Charles Schulz meant to them and their process. We were really pleased to see when creators started to turn in pieces for this project that so many of these stories have a real personal component to them. It could be about creators growing up with
Peanuts
and travelling from city to city and
Peanuts
being that constant that was always with them, or it could be a creator that was completely influenced by
Peanuts
and made them want to be a cartoonist themselves. It just goes to show you how Charles Schulz touched so many people's lives. As these stories started coming in we were blown away by how emotionally resonant they were and how powerful they were.
Outside of Peanuts, and Cartoon Network, the other foundational items for KaBOOM! are Garfield, which we're publishing in single issues, and collections on a yearly basis; and also the things that we're doing with Frederator. We have two really popular titles that we publish from Frederator. One of them is Bee and PuppyCat, which is created by Natasha Allegri; and also Bravest Warriors, which was created by Pendleton Ward, who, of course, created Adventure Time.
How have your trade paperback Peanuts books been selling?
This year those have been over-performing because of the film that's coming out later in the year (see "Fox, Blue Sky to Produce 'Peanuts' Feature"). What we've noticed is the book market has been coming to us and ordering quite a few Peanuts trades, Volume 1, Volume 2, Volume3 from the single issue series that we've been doing. There's a lot of renewed energy surrounding the film, so Peanuts this year has been a really big seller for us.
Are there some of the KaBOOM! Titles that sell better in the book channel, and some in the direct market?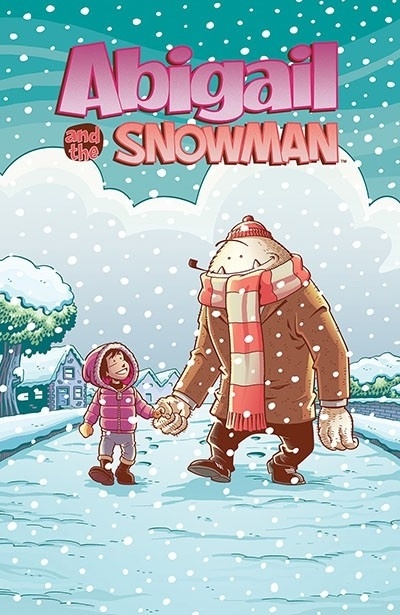 Definitely. With our originals that we do through the KaBOOM! line for instance
Abigail and the Snow Man
, which is written and drawn by Roger Langridge, does better in the direct market. We consider Roger to be a master, he's just an amazing storyteller, and he's somebody that the direct market has a lot of affection for. When Roger's material is collected into trade, that's something that the direct market really supports and gets behind. We have had success in the book market as well, but that's typically something that in the direct market stands out because of how much love Roger has in our market.
Lumberjanes has been a stand-out seller for us in the book market. We've had to go back to print a couple of times on that book in particular.
What printing are you on for Lumberjanes Vol. 1? How many have you sold?
We've sold around 60,000 copies with four printings, and the sales velocity shows no sign of slowing down.
Lumberjanes is original IP. You have the Valkyries pushing it in the comic stores, but why is it doing well in the book market?
With Lumberjanes we've reached kind of a tipping point where it's starting to cross over into the mainstream. It's a really accessible book, and it's something that is gaining a very devoted fan base. What we're starting to see when we go to conventions is people showing up dressed like characters from the comic; cosplay has definitely increased with that book. There's a real fan energy with that book that keeps increasing every single month. It's something that's really special to watch, actually. Something that makes us incredibly proud and really happy is to see how this book has really struck a chord.
When we spoke with [President of Publishing and Marketing] Filip [Sablik] about the Lumberjanes comic launch last summer, he told us that the action on Tumblr had something to do with the strong launch (see "Lumberjanes' Harnesses Tumblr, Hand-Selling Power"). Could that be part of where the audience is coming from in the book market?
Yes, there's a community that's building around these books. The Valkyries have been incredibly supportive of Lumberjanes from the start. I think that what's happened is that we're starting to get word-of-mouth building and Tumblr is certainly part of that. What we've noticed is that the interaction that we have on social media for Lumberjanes is significant and it's probably one of the titles that we get the most engagement from on social media. Again, there's just a really large community of supporters that are surrounding this book.
What trends have you noticed in the kids' graphic novel or comics market in the last few years? Are you seeing growth, and if so, how are you seeing it in the different channels?
What I've observed is not only is there growth, but there also seems to be more of a willingness to accept this material. We've been publishing all ages books for quite a while now. It used to be that it was a little bit tougher for us to sell retailers and sell buyers on this type of material and I think that sensibility has really changed in recent years. When we approach buyers, when we approach our retail partners even at someplace like ComicsPRO, we just see so much support.
I think there's a lot more support now for this type of material than there has been in previous years. Retailers and buyers have realized that not only is there meaningful work being done in this space, but it can be commercially successful as well.
It's hitting critical mass, too. There's more of it so it's easier to build a section.
I think you're right and that definitely helps when other publishers have kind of jumped in and there are quite a few publishers out there now that have all ages comics being published as a month-to-month initiative for them. Ultimately I think that it's good for the industry to have that type of support in the publishing space as well because retailers are seeing that this is something that is more of a wide-spread commitment from the publishing community.
Are there any other important upcoming releases for kids?
We also have from Archaia this year (outside of the KaBOOM! imprint, but still something that's considered if not all ages, then at least younger readers) the Art of Mouse Guard 2005 to 2015 (see "'Mouse Guard' Art Book"). It covers the first 10 years of David Petersen's process on Mouse Guard . That's going to 368 pages, so it's a massive book. It's the definitive, behind-the-scenes look at David's Mouse Guard series. We're really proud of that.
Anything that you'd like to communicate to the retailers who read our site about selling kids graphic novels or comics, or the KaBOOM! titles in particular?
I just think it's one of our most important missions. This is the reason why we have stuck with all ages publishing for as long as we have is because we believe in building the next generation of readers. It's as simple as that. I think that all of us would like to have a healthy, flourishing industry 20, 30 years from now, and it's important for us to foster the next generation of readers. It's one of the single most important things that we can be doing in our industry, and our retail partners are an extremely significant part of that.
It's kind of goes back to what I was saying on the last question, which is now it seems like the buyers, retailers, and the industry at large are so much more supportive of this type of material being published. It's ultimately something that we're so thankful for and we're so grateful to see because we need to build that next generation of readers. And in the last couple of years, I've felt like we've made great inroads, and I feel like we're really starting to build the next generation of comic book readers.