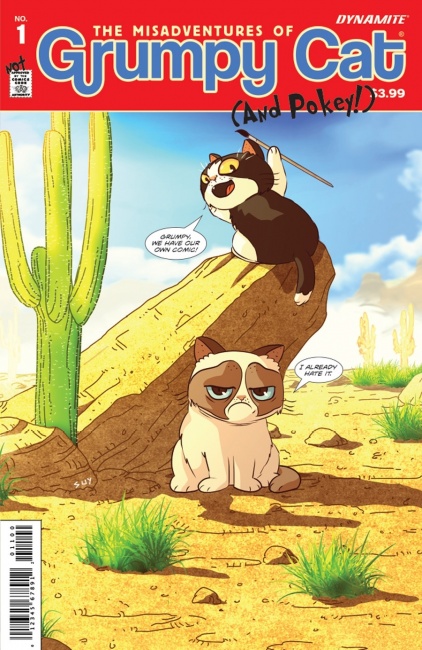 Dynamite announced a licensing partnership with Grumpy Cat Limited to bring the internet celebri-cat Grumpy Cat to print and digital comics.
(Click image for larger scowl.)
The first comic adaptation, a three-issue miniseries starring Grumpy Cat and her brother Pokey, will release this fall. The miniseries will be collected into a hardcover graphic novel in time for holiday release. Dynamite also plans to launch a new website this summer featuring weekly Grmpy Cat comic strips.
Grumpy Cat, aka Tardar Sauce, started out her meme life on Reddit, where her adorable perma-scowl (which her owner says is the result of feline dwarfism) quickly spread to Facebook, Twitter, and YouTube. Her owner, Tabatha Bundesen, capitalized on the kitty's success with two New York Times bestselling books, a Lifetime TV Christmas special, numerous TV and product spots, and merchandise that ranges from an iced coffee drink to a line of Ultra PRO game accessories (see "'Grumpy Cat' for Gamers"). Her Facebook fans currently number over 7.6 million, and her YouTube video views have topped 31 million.