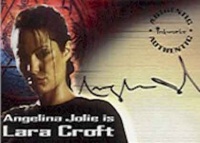 Inkworks has completed its trifecta of summer movie projects by adding Jurassic Park 3 to its stable, which already included two of the season's most anticipated films, The Mummy Returns and Tomb Raider (see 'Best in Shows' for the full list of summer movies with merchandising potential).
Tomb Raider
Debuting in prime position on June 15, Tomb Raider could be one of the biggest films of the summer. Star Angelina Jolie certainly looks great as Lara Croft (see 'Tomb Raider Poster a Knockout'), and this card series takes full advantage of her striking appearance. In addition to 90 cards filled with images of the story, gadgets, and behind-the-scenes views, Inkworks is also providing four levels of chase cards, the most interesting of which are cards featuring actual pieces of Lara Croft's 'Cambodia' costume, worn by Ms. Jolie during filming, and autographed cards from stars of the film, including Jolie.
Jurassic Park
The Jurassic Park cards will be produced using a new process that creates sharp two-dimensional photos that pop out in three dimensions when viewed with a card-sized 3-D viewer, which will be included in the packs. The viewers will be inserted about one for every 8 packs (at least 4 per box), and each box will have a special deluxe numbered viewing card as a boxtopper. The 72-card set will contain Movie Action Cards, Dino Field Guide cards (for all the new dinosaurs), and Behind-the-Scenes cards. Chase sets will include a nine-card, die cut Jurassic Extreme series, as well as six prismatic 'Ragin' Refractors,' and a rare foil embossed 'Mega Mayhem' card. Jurassic Park 3 opens July18th. Look for a solicitation for Inkworks' Jurassic Park 3 cards in the May issue of Diamond Previews.
The Mummy Returns
Inkworks is also creating a card series for the first big blockbuster movie of the summer, The Mummy Returns, which debuts on May 4. The Mummy Returns cards will be delivered to stores on May second, so there is still time to increase orders on this item. The 81-card base set includes Story Cards, Movie Art Storyboard Cards, as well as Character Cards. Bonus cards include a 9-card Scorpion King foil puzzle, six special sand-textured cards featuring scenes from the original (modern) Mummy movie, relic cards containing actual pieces of the costumes worn by Rachel Weisz and Oded Fehr during the movie, and autographed cards including cards from Brendan Fraser, The Rock, and Oded Fehr. Each box contains one limited edition Scorpion King (The Rock) card as a boxtopper.
When ordering Inkworks cards, don't forget about the accompanying binders. Inkworks continues to delight collectors by supplying sharp looking binders decorated with full color images for each of its card series.

Numerous retailers have reported to ICv2 that collectors who shop in their stores love the high quality Inkworks binders.

Another big bonus for collectors is the fact that Inkworks guarantees at least one complete set of cards (not including chase cards) per box.