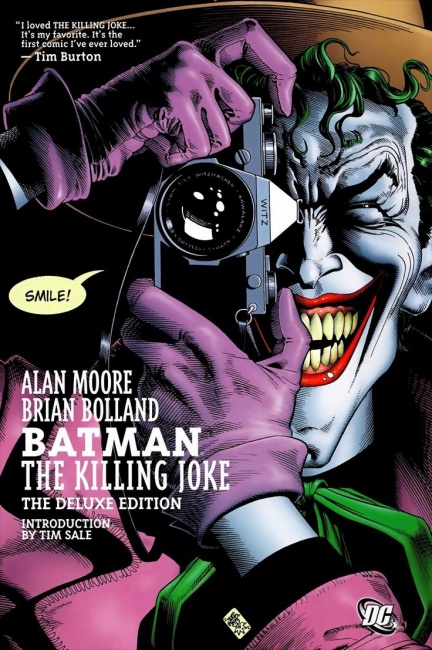 Comic-Con News:
After a Comic-Con screening of the direct-to-DVD animated feature
Justice League: Gods and Monsters
, which will be released on July 26, Producer Bruce Timm (
Batman: The Animated Series
) announced that one of the next DC Comics projects for Warner Bros. Animation will be an adaptation of one of the bestselling
Batman
sagas of all time (see "
June 2015 Bookscan: Top 20 Adult Graphic Novels
" to gauge the perennial popularity of this 1988 comic book series), Alan Moore and Brian Bolland's
Batman: The Killing Joke
.
In order to flesh out the story of The Killing Joke, which takes a scant 64 pages of comics to tell, DC indicates that a prologue will be added to the story to provide context (and some extra running time). Sam Liu, who directed Justice League: Gods & Monsters, will helm the adaptation of The Killing Joke, which should be hitting retail about this time next year.
DC also announced two other projects with Warner Animation, and original Batman saga, Batman: Bad Blood, which will feature the introduction of Batwoman to the direct-to-DVD series, and Justice League vs. Titans, which will be the first film in the series of animated films that will feature the Teen Titans.