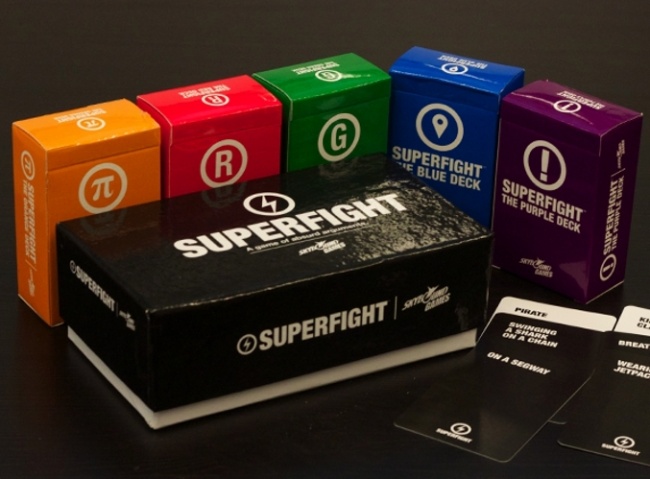 Skybound has announced trade distribution for its popular party game Superfight, beginning with the core set in October.

(Click either image for larger view.)

At Gen Con, ICv2 spoke with Skybound Director of Business Development Shawn Kirkham, who confirmed the game has been picked up by Diamond/Alliance for trade distribution, by PSI for other channels, and that they're planning to expand their distribution roster with additional hobby distributors. Prior to this point, Superfight has only been available to retailers through its website.

Skybound partnered with Superfight creator Darin Ross in 2014 to distribute the game after Ross approached the company about adding a Walking Dead expansion (see "'Superfight' Will Do 'The Walking Dead'").

The party card game has players use cards to generate ridiculous combatant combinations (a t-rex with laser eyes VS. Bruce Lee made of steel) from cards and then debate on who would win the fight. The 500-card core game contains two decks, a 160-card character deck, and a 340-card powers and problems deck. MSRP is $35.00. The game releases on October 28.

The game also has nine expansions in print, which add different characters and situations to the game. The 100-card expansion decks can be used alone or combined with the base game for more arbitrary match-ups. Kirkham told ICv2 that Skybound plans to add the expansions to distribution at a later date. MSRP is $15.00 each.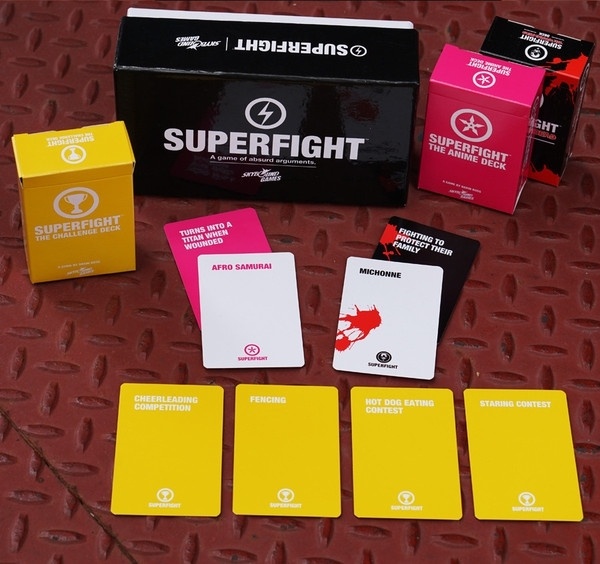 The most recent expansions include
Superfight: The Walking Dead Deck, Superfight: The Anime Deck,
and
Superfight: The Challenge Deck. The Walking Dead Deck
adds
Walking Dead
survivors and villains, as well as iconic locations and scenarios.
The Anime Deck
adds Coku, Sailor Moon, Ash
Ketchum, the Colossal Titan, and many more cards inspired by new and classic anime shows.
The Challenge Deck
is a modifier deck which adds new victory conditions to the fights. Instead of combatants fighting to the death, they may now compete in a Quidditch match, a football game, or try to survive
The Game of Thrones
.
Other themed deck expansions (Black / First Expansion, Orange / Geeky, Red / Offensive, Blue / Fight Locations, Purple / Scenarios, Green / Kid-Friendly) each add 100 new cards to the core game. MSRP is $15.00 each.
There are also Update Decks that contain the new cards added to each set after Skybound Games took over production in November 2014. MSRP is $5 - $10.00 each, depending on the number of cards included.