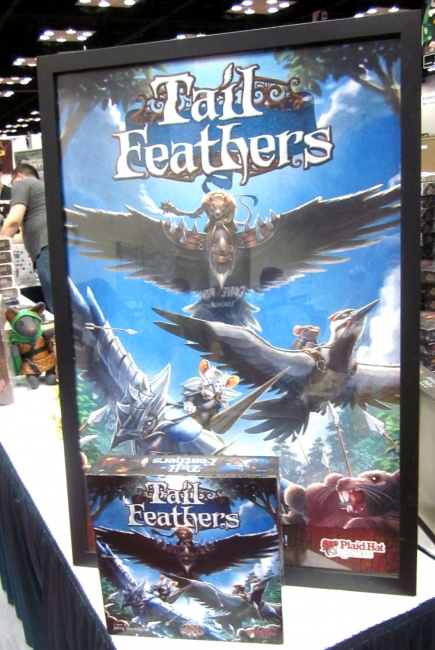 At Gen Con, ICv2 spoke with Plaid Hat Games Studio Manager Colby Dauch about the company's new game, with articulated miniatures, set in the
Mice and Mystics
universe; the forthcoming
Dead of Winter
releases; and the big demand for one of the company's new games at the show.
Click any image for larger view.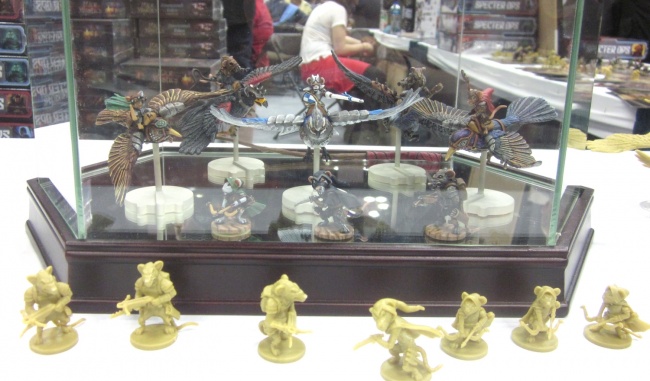 "
Tail Feathers
is a game where you are rats and mice flying around birds doing aerial fights and you've got support from the trees that you're using." Dauch explained. "It takes place in the
Mice & Mystics
world. The miniatures are all articulated so they lean left and right and back and that all factors into gameplay."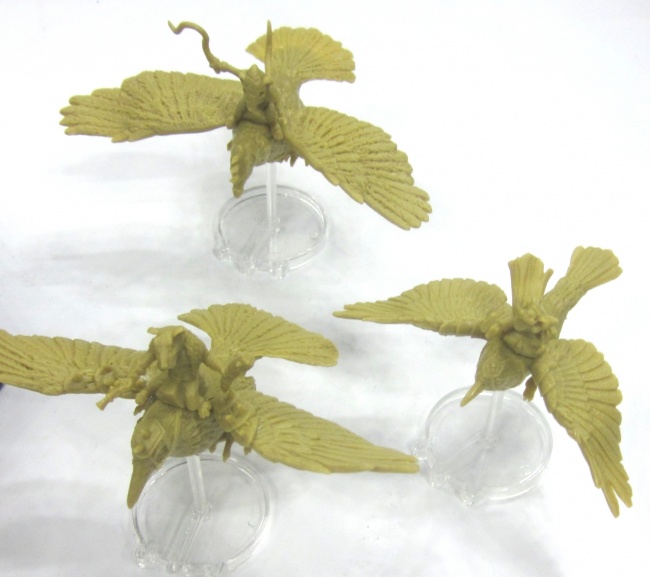 The articulated-miniatures mechanic appears to be a new innovation. "I think we're the first to use it," Dauch confirmed. "It's very visual and very tactile. Players are able to use the actual positioning of the birds and the way they're tilting to indicate how they're going to steer, and predict the way they're going to veer and use good piloting skills to pull them out of a steer that they no longer want."
Dauch also teased the next release for Plaid Hat's hit Dead of Winter board game. "We're doing an expansion for Dead of Winter. It's going to be as big as the first Dead of Winter. It'll be playable by itself; it'll be cross compatible," he said. "You can play the scenarios in either, you can mix characters from either, items from either. There will be a couple of new mechanics for that expansion."
Plaid Hat also plans an additional Dead of Winter survivor that will appear around the holiday as a promo pack, similar to the highly popular Dead of Winter Felicia Day Survivor Promo Pack from Tabletop Day (see "International Tabletop Day Promo Kits Revealed"). "Forest Plum's wife," Dauch confirmed. "Forest Plum is the shopping mall Santa and he was in the base game. Everybody loves to hate him. If you can kick him out of the colony, you gain a morale. The morale goes up, he's gone. His wife is showing up to the colony this Christmas, Roberta Plum, Ms. Claus, so that will be released via a promo pack." The figure will be released as a Plaid Hat website exclusive.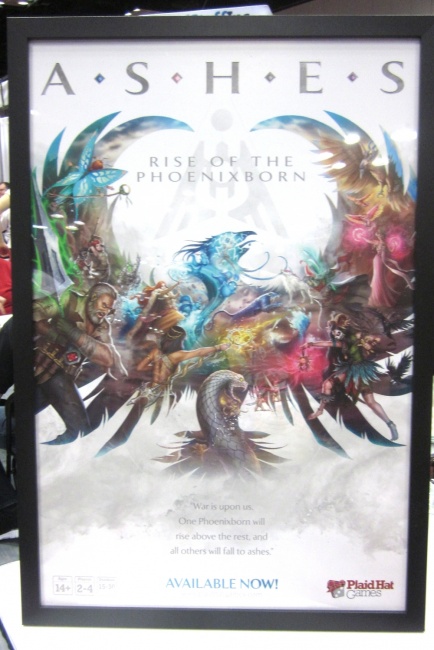 Plaid Hat released
Ashes: Rise of the Phoenixborn,
the company's new $49.95 card game (see "
'Ashes, Rise of the Phoenixborn'
") at Gen Con. "It was a big hit at the show," Dauch said, with over 700 copies sold out by early Saturday.
Dauch also answered the question everyone had been asking in the wake of the company's acquisition by F2Z: would it go exclusive with Alliance as Z-Man did (see "Plaid Hat Games Answers 'Exclusive' Question").