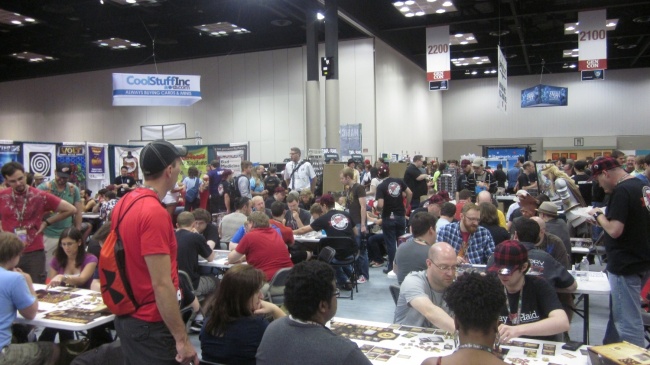 We asked Plaid Hat Games Studio Manager Colby Dauch whether F2Z's exclusive distribution agreement with Alliance Game Distributors/Diamond Comic Distributors would carry over to Plaid Hat in the wake of the company's acquisition by Z-Man Games parent company F2Z Entertainment (see "
Z-Man Parent Buys Plaid Hat
").
Plaid Hat Games is not automatically subject to F2Z's hobby exclusive deal with Alliance (see "Z-Man Games Goes Exclusive With Alliance"), Dauch told ICv2. "Plaid Hat Games will not be exclusive for the immediate time being," he said. "The Z-Man deal does not affect the Plaid Hat games."
The F2Z Entertainment acquisition of Plaid Hat happened fairly quickly, Dauch revealed. Negotiations began shortly before Origins, and F2Z created a U.S. corporate entity to facilitate the deal.
Asked whether there was any more acquisition-related news for retailers, Dauch said that he expected F2Z to help keep the pipeline full on Plaid Hat's hits. "I would expect that you'll see that those Dead of Winter orders that you can't fill, that problem to be solved because their infrastructure can handle it. They've been through it before with Pandemic."
Plaid Hat also revealed its new game, with articulated miniatures, in the Mice and Mystics universe; its planned Dead of Winter releases; and the big sales on its Gen Con release (see "Articulated Game Minis, 'Dead of Winter' Expansion, Fast-Selling Gen Con Release").