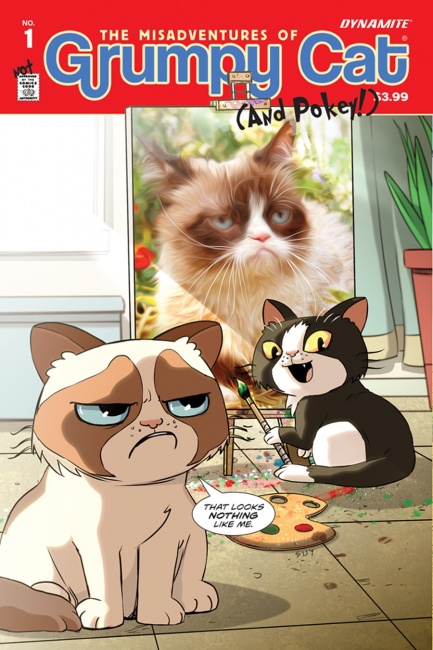 The licensing stream and promotional engine that is Grumpy Cat has an impressive social media presence behind it, and that presence was deployed to promote the upcoming Dynamite
Grumpy Cat
comics (see "
Grumpy Cat Comes to Comics
") within the past week. Grumpy Cat has nearly eight million Facebook friends, and hundreds of thousands of followers each on Twitter, Tumblr, and Instagram, and Grumpy Cat's handlers exposed all of them to the news that a comic was coming and offered the Comic Shop Locator as a way to find a retailer offering them.
The Grumpy Cat media presence, both as content and as marketing persona, is impressive. The cat has appeared on numerous news shows but has also made appearances on the MTV Movie Awards, American Idol, The Bachelorette, and WWE Monday Night Raw. Grumpy Cat is the official spokescat for Friskies and stars in a 2015 campaign and TV commercial for McDonalds. Over 20 licensees are producing merchandise. In print, Grumpy Cat has appeared in two books from Chronicle, both bestsellers, and a third will be out in October.
We caught up with Dynamite Director of Business Development Rich Young, who is editing Dynamite's new comic series and working with Grumpy Cat Limited, the company behind the licensing, to find out more about Dynamite's plans for the comics.
ICv2: So this is a living creature, but now also a licensing stream. Is there a Style Guide for Grumpy Cat?
Rich Young: Not necessarily a style guide per se, but they did establish the general look and feel of how they wanted the cats to be portrayed. We also went through some art tryouts and had to dial in the style a bit. Some artists got it immediately, some did not, so there was a little playing around in order to hone in what was desired. But I think now everyone is very happy with Grumpy in illustrated form and how the comic is shaping up…it's very entertaining and visually fun.
How will you tie the comic to the qualities that made Grumpy Cat a viral hit?
Grumpy's got the perfect mix of cuteness and cynicism, and that certainly comes across in the comic. She's got a sassy come back or one liner for just about every situation she finds herself in, and some of them are pretty hilarious. Many people don't know but Grumpy's got a real life brother named Pokey, and he is also a prominent part of these comics. Pokey is more happy-go-lucky than Grumpy and balances her out when she might be getting a little too cynical or down-and-out.
Are there multiple stories, or a single story in the comic (there are multiple writers listed)?
Each issue contains three short stories, each by different creative teams. So you'll get a chance to see Grumpy drawn and voiced by several talented writers and artists, each of whom have put their own spin on her while staying true to the overall tone of Grumpy Cat.
Will there be any serial aspects to the comic stories, or is each a one and done?
Issues are self-contained…one and done. We thought about a longer story that carries over multiple issues...and that still may happen…we may send her and Pokey on a globetrotting adventure…but we thought it best for this first series to be multiple short stories.
Who are the fans of Grumpy Cat, and what is the target audience for the comic?
I've spoken with Grumpy's agent Ben Lashes about this as I was curious who he would say Grumpy's fans are, and what the target audience is. He told me is that it is very broad…young, old….male, female…geeks, hipsters…kids….people from different parts of the world (Grumpy books have already been published in 15 languages) and everyone in between. When Grumpy Cat makes an appearance, there is a line around the block and it includes every type of person you could imagine. So we're looking for the comics to have a very broad appeal as well, and be read by a wide audience range.
For interior pages and covers, click the gallery below.