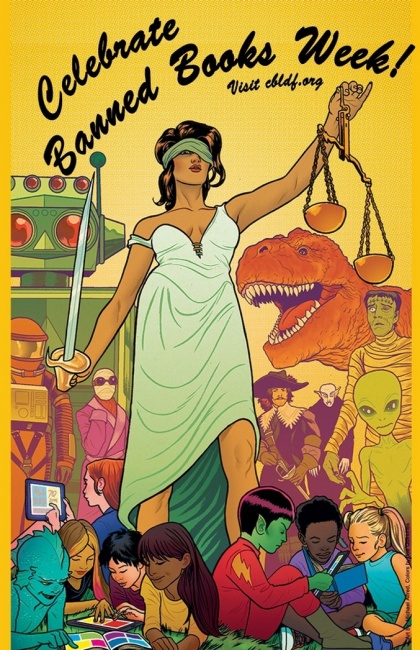 The Comic Book Legal Defense Fund (CBLDF) has announced its promotional gear bundle for the upcoming Banned Books Week. This year, Banned Books Week includes a thematic focus on young adult literature, which includes graphic novels.

This year, the annual Banned Books Week will take place September 27 – Ocotber 3. Last year's event focused on comics (see "Banned Books Week Focuses on Comics"). The focus on young adult titles theme includes comics, since two of the three comics on the American Library Association's most recent list of commonly challenged titles (Marjane Satrapi's Persepolis and Raina Telgemeier's Drama) are aimed at a young adult audience (see "Three Graphic Novels Among Most Banned Books").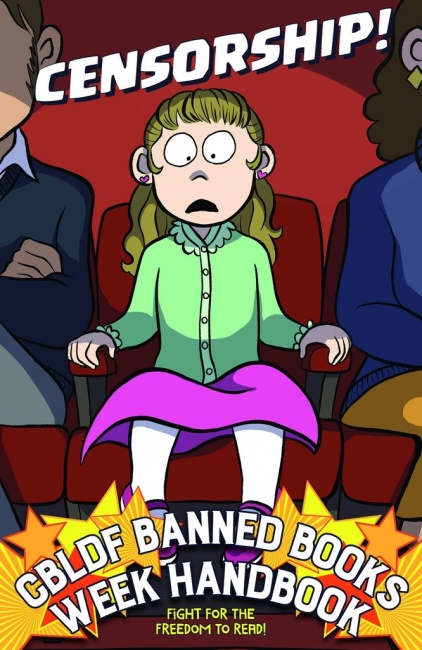 The $25.00 CBLDF Banned Books Week Gear Bundle 2015 includes:
The CBLDF Banned Books Week Handbook
10 "I Read Banned Comics" Stickers
10 "I Read Banned Comics" Buttons
An 11″ x 17″ Lady Justice poster, drawn by Michael Allred and featuring colors by Joe Quinones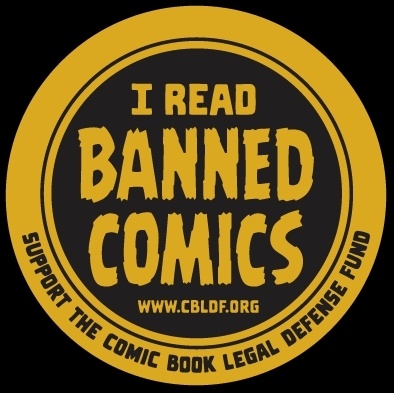 The kit, and other resources can be ordered
here
.
The Banned Books Week Handbook can also be downloaded for free on the CBLDF website, or ordered from Diamond Comic Distributors (see "CBLDF Releases Banned Books Week Handbook").
The CBLDF is offering to connect educators and librarians with creators and industry professionals in their area who are available to provide lectures and workshops for Banned Books week events via the CBLDF Comics Connector.
CBLDF has also offered to compile a list of Banned Book Week events and socialize them. Event information can be sent to betsy.gomez@cbldf.org.