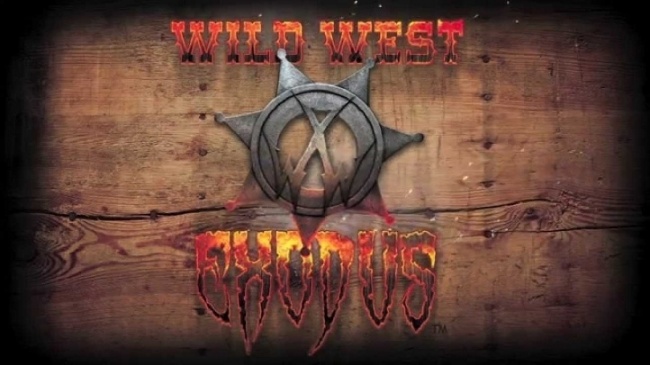 At Gen Con, Outlaw Miniatures was showing off its
Wild West Exodus
miniatures game. The alternate-history, science fiction, post-Civil War era game was designed by Outlaw Miniatures co-owner Romero Filip. The highly detailed 35mm plastic and resin miniatures come unpainted and unassembled. ICv2 spoke with company co-owner and CFO Jama Filip to learn more about the company and the products.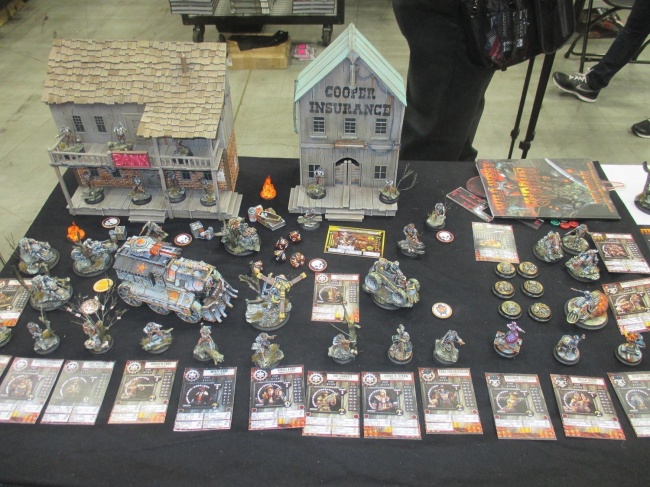 The game was launched with a Kickstarter in Spring 2013, which raised $332,000 from over 1,000 backers. The company recently ran another Kickstarter this spring to add more factions which raised over $178,000 from nearly 700 backers.
The game's initial offering included five factions: the Native American Warrior Nation (Sitting Bull, Geronimo), the Lawmen (Wyatt Earp, Doc Holliday), the Outlaws (Jesse James, Frank James), the Union (General Grant), and the Enlightened. "Enlightened is the European (army) so there's an RJ1027 technology that was created by Dr. Carpathian, and he's one of the bosses of the Enlightened army. It's what fuels or powers all of the vehicles. He makes mechanical arms, things like that," Filip said.
Each faction is available in its own Starter Box, which includes a boss model, up to three underboss models, up to 5 sidekick models, and various hired hands/ light support troops. MSRP is $54.99. There is also an Outlaws vs. Lawmen – Two Player Starter Box ($109.99) which includes alternate sculpts of the two faction bosses and miniatures for both factions, as well as the Wild West Exodus Mini Rule Book , quick start rules, a template & token set, and four 10-sides dice.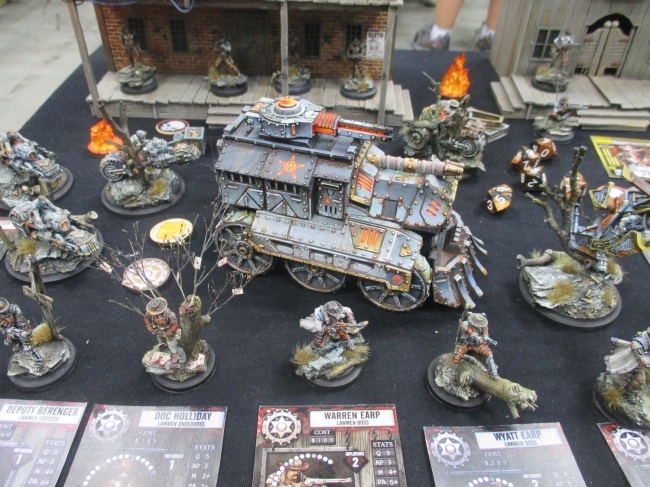 The game rules can be downloaded from the company's website, or players can purchase the
Wild West Exodus Mini Rule Book
($19.99), or the hardcover
Wild West Exodus Core Rule Book
, which includes 200 pages of stories and world description($59.99). "(T)hen we have five, almost six, novels that continue with the back story of all the different characters in the game," Filip shared. There are numerous individual miniatures available to customize armies with, including mercenaries, as well as faction vehicles, scenery and terrain. The company website includes a full set of Organized Play documents for both League and Tournament play.
Last year Outlaw added a sixth faction to the game, the Holy Order (ancient secret society opposing the Dark Council). The final four factions were added this spring through the second Kickstarter. These factions include the Confederates (Stonewall Jackson, Beuford Nash), the Golden Army (Ponce deLeon and his near-immortal Mexican army), the Watchers (aliens), and the Dark Nation (Native Americans corrupted by the Dark Council).
Filip explained Wild West Exodus game play. "The main three things different about our game vs. other tabletop miniature games, we have 1:3 alternating activation, so no matter how many models you have, each activation per opponent you do 1 to 3 model. I go 1 to 3 models, and back-and-forth until all the models on the table have been activated. And the turn starts over, so it's a lot more interactive rather than sitting back and watching your opponent go for 20 minutes."
"We have a close combat halo, so models are always in a position to fight," she explained. "So if someone comes up on me and they're within my 1-inch halo, then I make an immediate strike on them, and then they get to come back and defend themselves."
There is also the use of "influence". "(I)n the world of Wild West, there is an evil spirit being, or ghost, or Dark Council. The way that plays in the game is through their influence. So in each posse (which is what our armies are called), different models have a certain influence factor. The bosses will have 3, underbosses and so on the influence will decrease. It's a collective pool of influence tokens that you can use to affect different rules in the game. Let's say you're in that close combat situation and you want to make sure that that roll kills that model, then you can wager the influence and re-roll if your first roll isn't good enough to kill them. So it helps change the outcome of the roll. "
Until recently, Outlaw Miniatures has only sold direct to retailers, but in mid-August, it announced a distribution deal with Southern Hobby Supply.
See gallery below for multiple images.