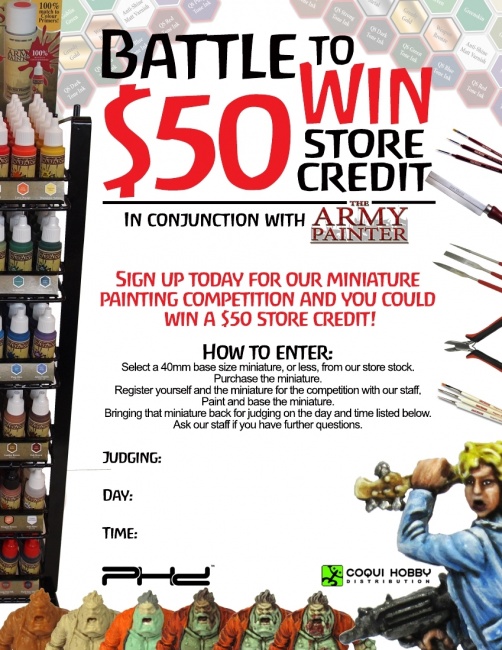 The Army Painter and PHD & Coqui Hobby Distribution have announced a new store-based miniature painting competition with incentive prizes for both store owners and their customers.
(Click image for larger view.)
The contest includes both a store-based miniature painting competition and a worldwide one. The distributor will provide downloadable advertising posters, rules for the competition, and a judging tips sheet.
Customers may then purchase a miniature they intend to paint for the competition at the local store (maximum 40mm base). The mini must be chosen by October 2, and then the contestant must paint the miniature and return for a store-level contest judging on October 31. Stores can choose how they wish to choose their local winner (peer voting, retailer judged), and the local winner receives a prize of $50 (retail value) Army Painter store credit (which PHD will credit to the hosting store's account).
The store owner then submits pictures of the winner and their entry to PHD by November 4 for a worldwide competition. PHD will select the winning store entry and announced it on November 14, and that store will receive $250 credit with PHD towards Army Painter merchandise.
During the contest, PHD and Coqui Hobby will be running its own staff competition, and promoting the event online throughout the month, posting tips and tricks on painting and basing miniatures.