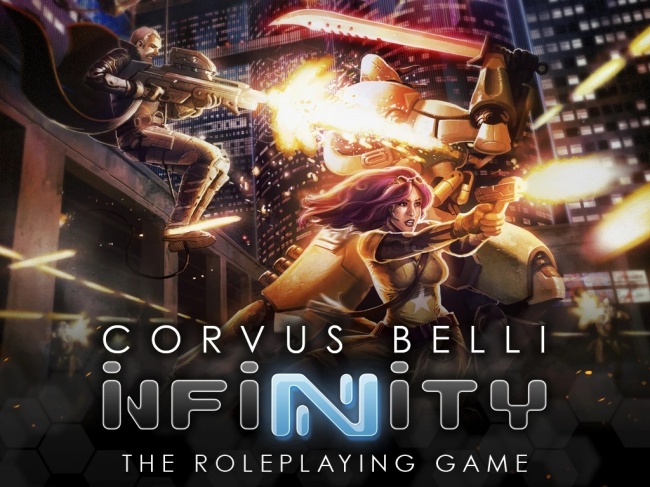 Modiphius Entertainment originally announced the
Infinity RPG
for release this year (see "
'Infinity' RPG
"). Now the company has launched a Kickstarter campaign to fund the entire line, with plans to release the
Core Rulebook
in April.
The Infinity RPG is based on the tabletop miniatures game published by Corvus Belli, which presents skirmish-sized science fiction battles. The full-color, hardcover Infinity RPG Core Rulebook is currently 380 pages (it may be expanded based on the Kickstarter funding) and has a tentative MSRP of $64.99.
A number of game supplements are also planned for the line, with releases scheduled about once a month following the Core Rulebook. Planned supplements include:
A 192-page Gamesmaster's Guide, with rules for spaceship combat, mass combat rules, NPCs, and additional game rules. MSRP is $24.00.
A 112-page softcover Player's Guide, with additional details about the game's setting and rules for using RPG characters in the tabletop miniatures game. MSRP is $15.00.
The 112-page softcover Paradiso Planet Book, which details the primary setting for the game, the jungle-world of Paradiso. MSRP is $18.00.
Four adventure campaign books, including Shadow Affairs, Acheron Cascade, Human Sphere Adventures, and Nebula of Mirrors. Each book will be 112-page softcover supplement. MSRP is $18.00 each.
Eight Faction Books, detailing the different groups that dominate the Human Sphere: Ariadna, Haqqislam, Nomad, Panoceania, Yu Jing, Aleph, Tohaa, and the Combined Army. Each 112-page softcover book is MSRP $18.00.
Modiphius plans additional supplements, including the Tactical Armored Gears, O-12 Files, Technology of the Human Sphere, Ships of the Human Sphere, Hypercorps, and War Market: Mercenaries Sourcebook. Each will be a 112-page softcover book. MSRP has not been announced.
The Kickstarter campaign has already attracted over $200,000 from 1500 backers in the first five days, with 27 days remaining. The campaign may even outpace the top RPG Kickstarter, Monte Cook's Numenera, which raised $517,255 in September 2012 (see "Monte Cook's New RPG at over $300k").
Like Modiphius' earlier Thunderbirds Tabletop Game, the Kickstarter for Infinity RPG includes a retailer pledge level that will allow retailers to make a small deposit in exchange for the right to order the game when it is released.