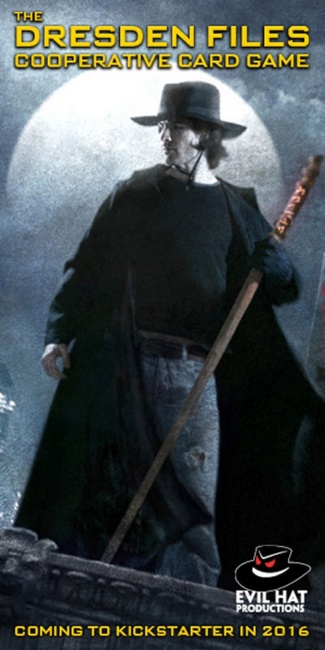 Evil Hat Productions has announced plans to produce a cooperative card game based on the popular Dresden Files series of novels in 2016.

The Dresden Files Cooperative Card Game was designed by Eric B. Vogel (Don't Turn Your Back, Zeppelin Attack). In the game, the players assume the roles of Harry Dresden and his allies, working together to solve the cases described in the books by Jim Butcher. The first set will feature the characters of Harry, Murphy, Susan, Michael and the Alphas who can be pitted against the adventures from the first five novels.

Final game component and MSRP have not been announced, and likely will not be determined until the game's Kickstarter campaign launches next year. Fans who are interested in testing the game before release will have an opportunity to demo it at conventions this fall and winter.

Evil Hat released Vogel's deck-building game Don't Turn Your Back last month (see "New Dark and Gritty Deck-Building Game From Evil Hat"). The company also recently added a new supplement for its Origins Award-winning Dreseden Files RPG (see "'Dresden Files RPG: The Paranet Papers'").