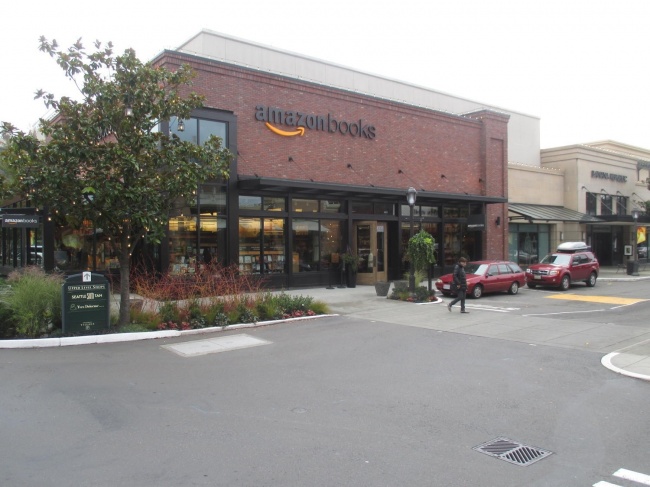 We visited the new Amazon bookstore, found between a Banana Republic and a Seattle Tan at the high end University Village mall in Seattle (see "
Amazon Opens Bookstore
") last week, to see what we could learn about Amazon's larger strategy for brick and mortar retailing, and found something that was less a store and more a display of Amazon's top products and services.
One way Amazon is doing that is by introducing families of products and by displaying only products that are almost guaranteed to bring a high level of customer satisfaction. While Amazon clearly believes future purchases will be made from its website, it's also bringing attention to high quality works that represent their categories well, and that has the potential to increase the size of the pie.
The initial marketing (emails to Amazon customers in the Seattle area and a major public relations push) appears to have done its job; there were 50-75 people in the 10-15,000 square foot store, by our count, at midafternoon on a weekday. As we overheard one shopper say to his companion, "This is probably the most people I've seen in a bookstore."
And the graphic novels, games, and related products on display were all highly rated by Amazon users, top sellers, or both, so to the extent that the product displays led to purchases, those purchases were going to bring more.
Amazon was not trying to directly compete with a comic, game, or book store with its retail outlet. Its selection is smaller than most, due to its profligate use of space for full cover displays for its entire book inventory. But it is trying to lead customers from the brick and mortar experience to its app and website for future purchases.
Amazon's graphic novel merchandising is illustrative. Its six bays of graphic novel display (a fraction of the number of titles in most comic or book stores) does not include any full series. It includes just the first and last volumes, with the implicit assumptions that consumers shopping at the Amazon store will either be just getting introduced to a new series or just need the latest volume, and to the extent they need other volumes, they'll find them online. This is not only a great way to introduce new titles to consumers, but also a way to make gift shopping easy, as the gift recipient is likely to enjoy any gift purchased from among the titles offered in the Amazon store.
So, for example, Amazon stocked the first 3-in-1 volumes of Naruto and Bleach, the most recent individual volumes, and none of the scores of volumes in between. The only exception to this strategy that we saw in the entire graphic novel display was for The Walking Dead, for which there were three compendium volumes on display, along with the first and last individual collections. Robert Kirkman's Outcast was displayed next to The Walking Dead, so customers that like Kirkman's writing on The Walking Dead might find another work of his they're likely to enjoy.
The graphic novel merchandising was unbound from conventional display paradigms. There was little emphasis on having titles in an alphabetical or other systematic order, and more on displaying books in groups that might have appeal to particular browsing consumers.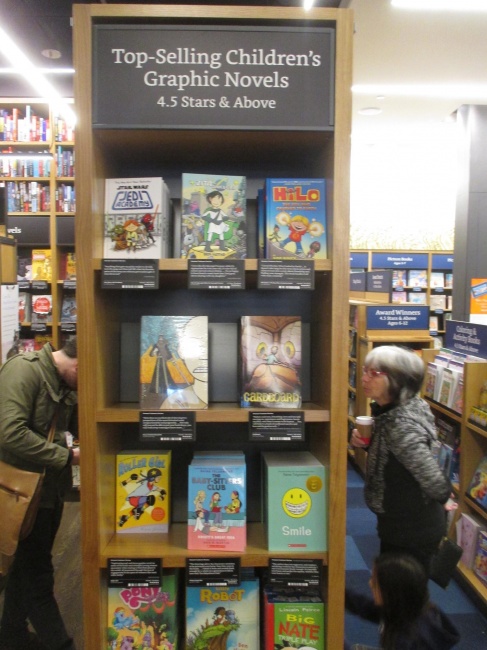 An end-cap kids graphic novel display showcased titles for younger readers rated 4.5 or above on Amazon. First volumes of series were the norm, with the first volumes of the
Babysitter's Club
graphic novel series,
My Little Pony
, and
Big Nate
, plus
Smile
(arguably the first in a series of Raina Telgemeier autobiographical titles that also includes
Sisters
), and Jeffrey Brown's
Jedi Academy
(the first of his
Star Wars
books).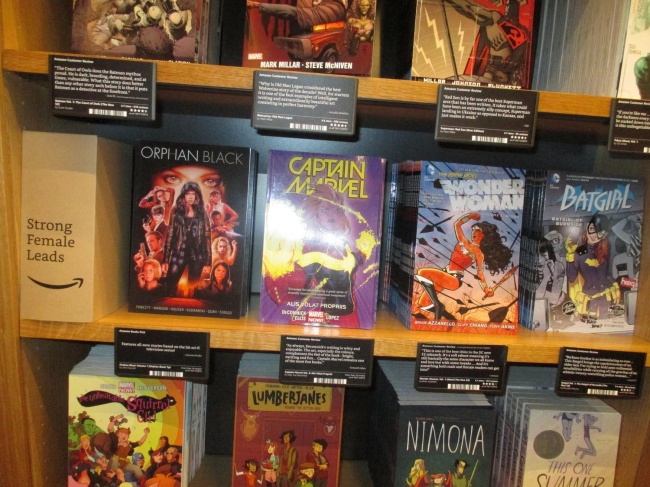 Special sections in the graphic novel area focused on Top-Rated titles, Top Sellers, and perhaps most interestingly, two shelves of titles with "Strong Female Leads," which included such titles as
Orphan Black, Captain Marvel, Wonder Woman, Batgirl, Squirrel Girl, Lumberjanes, Nimona
, and
This One Summer.
Top rated titles included titles such as Allie Brosh's
Hyperbole and a Half
and Bryan O'Malley's
Seconds
, with its display card identifying it as "One of Amazon's 100 Best Books of 2014."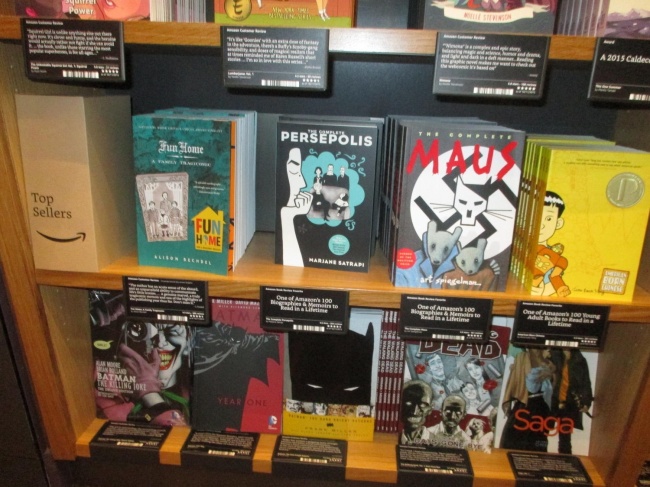 Top sellers included long-selling classics such as
Persepolis, Maus, and American Born Chinese
along with
Fun Home
, a solid seller that has recently broken out due to the interest stimulated by the Tony Award-winning Broadway musical based on it.
There was greater emphasis on "author" titles than on manga or superheroes, perhaps illustrating the types of customers that create bestsellers on Amazon's website, and how they differ from those that shop in book or comic stores. Of the six bays of graphic novels, there was one bay each of Marvel and manga titles, a partial bay of DCs, and the other three bays were mixed, with a heavy component of author titles along with some superhero and manga titles.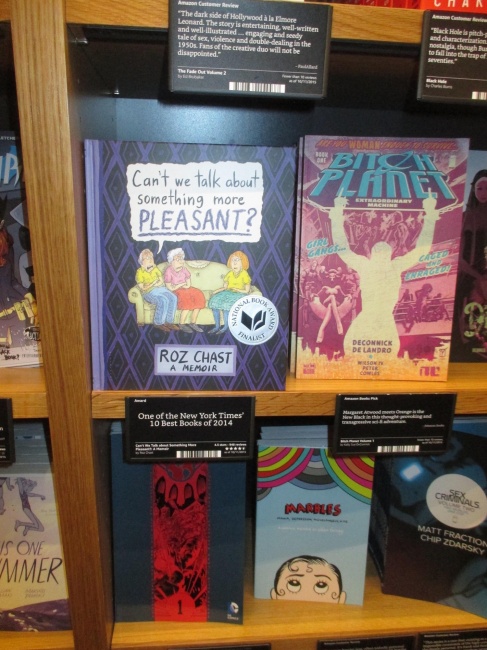 Even with the limited number of titles the store displayed, it was able to rack some titles in multiple places. Roz Chast's bestselling
Can't We Talk about Something More Pleasant
and Alison Bechdel's
Fun Home
were displayed both in the graphic novel display and in "biography," as memoirs. In a Barnes & Noble store, those titles have only been displayed with other memoirs, and not in the graphic novel display. Again, the emphasis seemed to be on helping the browsing consumer find great books rather than slavishly following BISAC or other categorization systems.
At least one graphic novel even got some up front display: the first volume of O'Malley's Scott Pilgrim series was among the first titles shoppers saw as they walked into the store in a display of mixed titles rated 4.8 or above by Amazon users.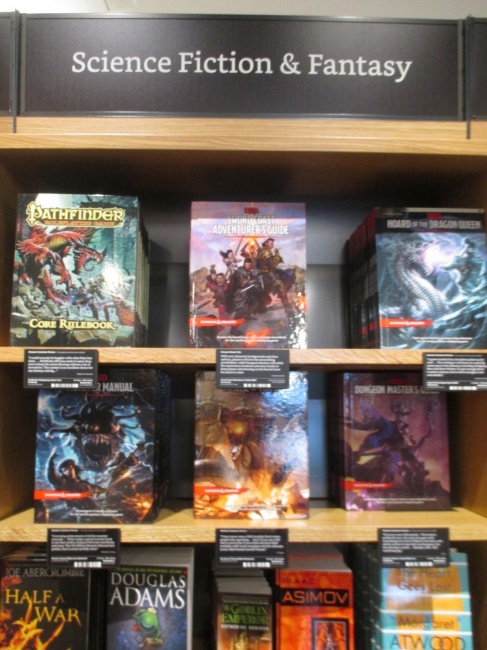 There were limited displays of games in the store. Six RPG titles were on display in the "Science Fiction and Fantasy" section, five
Dungeons and Dragons
titles and the
Pathfinder Core Rulebook
.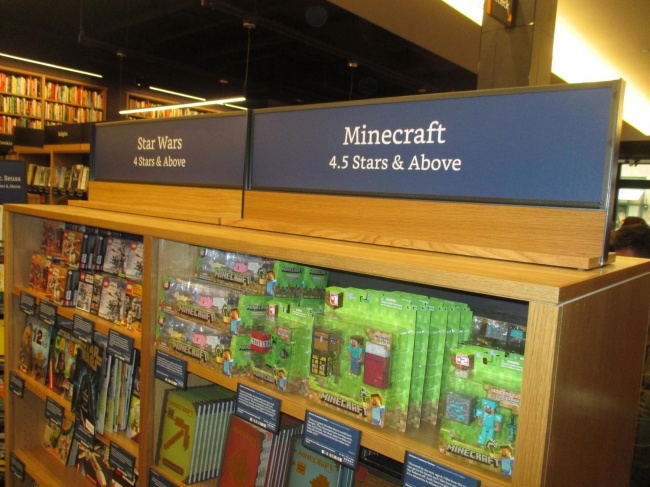 In the Toys and Games section, the focus was once again on a limited selection of very popular, high-rated titles from the Amazon website, including such power licenses as Star Wars and Minecraft.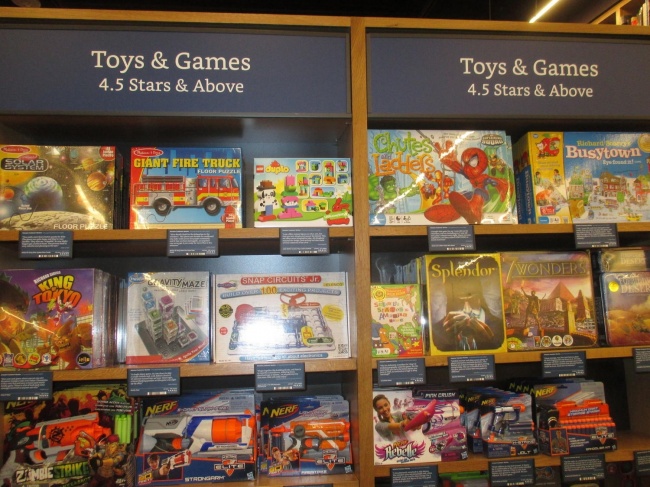 Hobby board and card games on display included
King of Tokyo, Splendor, 7 Wonders
, and
Forbidden Desert.
Geek culture turned up in a few other sections, with Abrams' new My Little Pony: The Art of Equestria and Scott McCloud's Understanding Comics on display in the art book section.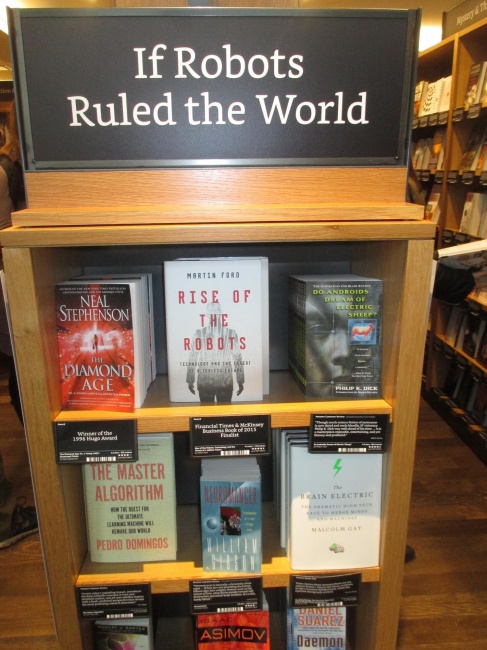 Other merchandising revolved around categories like "Most Wished For," which displayed titles frequently on Amazon shoppers' "Wish Lists;" "100 Books to Read Before you Die" from Amazon company Goodreads; or on curated themes like "A New Take on Noir" or "If Robots Ruled the World" (a mix of fiction and non-fiction), or even "Read Local -- New and Top-Rated Seattle."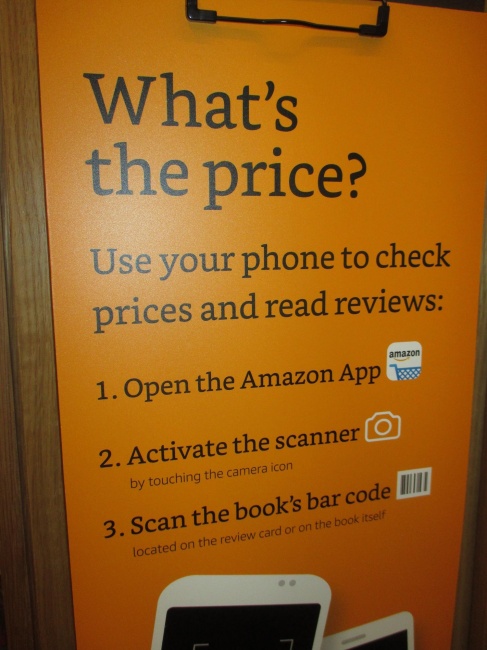 If selection was not the Amazon quality that its displays emphasized, neither was price. Prices on books were not marked, with consumers instructed to use their Amazon phone apps or kiosks to scan bar codes to find out the current prices on the site. Or, of course, they could just take their purchases to the check-out, secure in the knowledge that they'd get prices that are kept competitive with every other online seller by Amazon's pricing bots.
Only magazines (which included no periodical comics) were exceptions to this system, with shoppers informed that they were being sold at the prices on the cover.
While consumers were engaged by the displays, and many were leaving with packages, the arrangement of the store was definitely unique enough to cause some confusion. We overheard one shopper say "I'm not sure what they're trying to do" on the way out of the store. And even Amazon may have multiple goals or just be throwing the concept out there to see what people react to, planning to adapt its strategy based on data.
We were happy to see that if nothing else, the Amazon bookstore is a missionary outpost for the joy of reading (and, to a lesser extent, of playing games). It will be interesting to see where the concept goes, and whether it's expanded. In the meantime, the store raises interesting questions about merchandising and how information from sales and social media (as incorporated into the Amazon website) can be used to drive decision-making about brick and mortar retailing.
Click any image for larger view.