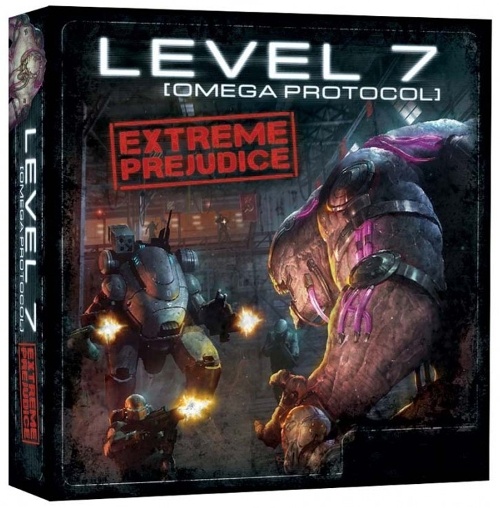 Privateer Press will release the
Extreme Prejudice
expansion for its tactical miniatures boardgame
Level 7 (Omega Protocol)
in March 2016.
In the
Extreme Prejudice
expansion, a team of commandos called "Tin Man" must hunt down the escaped alien Dr. Cronos, who has taken shelter in a secret Russian research facility where he continues his inhuman experiments. The team must fight their way past elite
Spetznaz
soldiers and Dr. Cronos' own genetically modified monsters to complete their mission. To aid them, the team has been issued a powerful mechanized battle suit, and can team up with the alien scientist Thoth, who has his own reasons for wanting to stop Dr. Cronos.
Extreme Prejudice
requires the base game in order to play. The expansion set includes five new scenarios for the game, three new enemies to fight, and two new commandos. It is intended for 2 to 6 players. MSRP is $45.99.
Level 7 (Omega Protocol)
is a tactical combat boardgame in the "overlord" style that pits a team of players representing the commandos against the challenges and aliens controlled by the "Overseer." It was released in 2013 (see "
'Level 7 (Omega Protocol)' Board Game
"
).