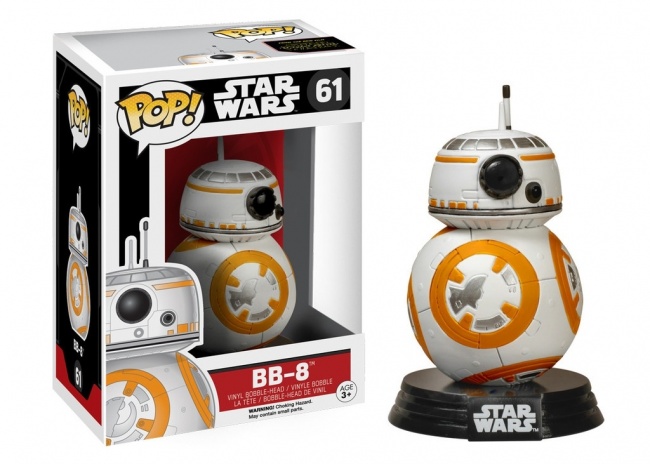 Even with the spectre of deep-discount online ordering looming ever near, brick-and-mortar comic retailers enjoyed a very merry Christmas, helped along by a little something called "Star Wars," according to a geographically diverse group of retailers interviewed by ICv2 over the holidays.
"The big customer demand was for Star Wars, and we were either lucky enough or smart enough to be well-stocked in advance," said Doug Simpson, general manager of Paradise Comics in Toronto. "The comics have done well, and the Funko Pop figures just fly off the shelves."
The landscape looked similar to Tate Ottati, owner of Tate's Comics in Lauderhill, Fla. Ottati did a major renovation in his store earlier in 2015, creating very distinct Marvel and DC Comics sections, and yes, a Funko section.
"We've had Funko Pop from the beginning, and our selection has really grown," he said. "We can't keep BB-8 in stock, but all the 'regular' superhero figures do great, too: Superman, Batman, Deadpool, Wonder Woman, Spider-Man."
Ottati said 2015 has been his best year across the board in every category, be it comics, toys, or apparel. There's similar growth at The Comic Bug, a two-store operation in metro Los Angeles.
"Business has increased every Christmas, and we're up about 15% this December on a year-to-year basis," said Mike Wellman, co-owner of The Comic Bug.
Wellman is well aware of the potential impact of cheap and easy online ordering, but is countering with an innovation of his own. Riffing on Black Friday and Amazon's Lightning Deals, The Comic Bug has done "Black Lightning Sales" that last only one to two hours, and are gone.
"We've done 75% off all back issues, or all variants at cover price," Wellman said. "We don't care if it's a $200 variant going down to a $5 cover, if you make it here in that time window, it's yours at that price. Our customers know to follow us on Twitter and Facebook to see what might be next."
The month isn't tabulated yet at Graham Crackers, the massive chain with nine stores in Chicago and one in Madison, WI, but co-owner John Robinson reported that the year is up overall, and December is projecting at 4-5% higher than last year.
"Even with Amazon, people always come in with a list in their hand," he said of the chain's Christmas shoppers. "We did well with gift-y items such as action figures and T-shirts. Comics are harder with the constant relaunches. Order numbers are harder to guess."
Oddly enough, it is the comics in comic stores that are giving retailers fits. Doug Simpson at Paradise Comics characterizes recent DC performance as "terrible."
"When you're selling 100
Amazing Spider-Man
and 40
Batman
… that's a problem," he said.
Overall, Marvel's performance, fueled by
Star Wars
, has been better. Simpson also sees upside in Image Comics.
"Image #1s have been stunning," he said. "But numbers 2 through 5 have really fallen off. I think people read the first part as a sample, and they love it. Then they wait for the trade. We might sell 50 copies on a new Image #1, and only 20 on a #2."
DC did their part to kick the Christmas shopping season off, though.
"DC has always done a great job of supporting Black Friday dating all the way back to 1989 when they released
Arkham Asylum
and
Gotham by Gaslight
on that day," said Marc Nathan, owner of Cards Comics Collectibles in Reisterstown, MD. "We did very well with
Dark Knight III
on Black Friday weekend, but aside from that, DC has been really, really flat."
And Nathan saw the same thing many other retailers saw: Merchandise, merchandise, merchandise.
"In the week before Christmas, it felt like I sold only gift cards and toys. Toys. All toys," he said. "We sold crazy amounts of 3-D items, by the boxful. The good news is that there are more merchandise items in the marketplace right now, and a lot are great items that people want. The comics have been very average. We survive on selling the merch."
Merchandise is one solution, and experience is another. The Comic Bug kept things active with their fast-paced sales, and even brought
Harley Quinn and Deadpool cosplayers
into their stores on December 23 for customer to take Christmas pictures.
"Comics are fun, colorful, and exciting, and we have to make our store that same kind of fun experience because -- dirty secret! -- you can just buy online if there's no reason to go to the store," Mike Wellman said. "You might as well make it a party."