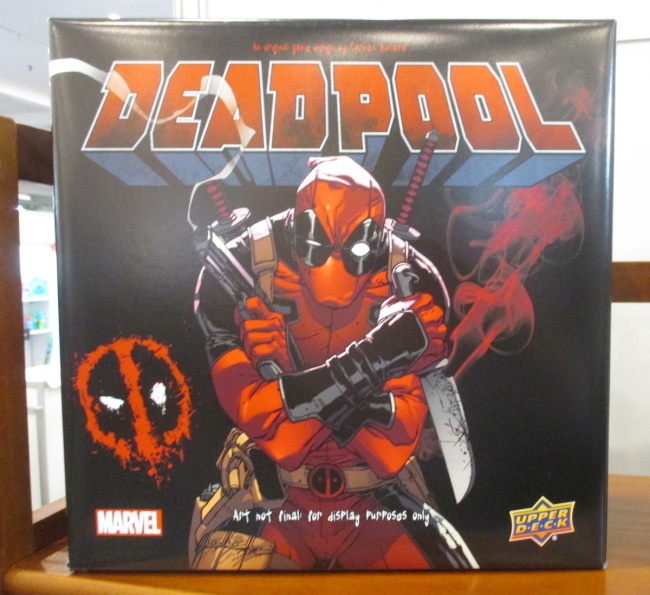 At Toy Fair 2016, ICv2 spoke with Upper Deck Brand Manager Jason Brenner to learn about upcoming Upper Deck releases for both 2016 and 2017.
Upper Deck plans to release a stand-alone Deadpool board/card game in the next year. "We're shooting for some time later in the year, but likely early 2017." The game will be adult oriented. "Likely 17+, like we did with Alien [Legendary]," said Brenner.

More immediately, a Marvel Legendary Deadpool expansion will be coming out in October. "We're trying to take advantage of the fact that Deadpool is really hot and people want more of him," Brenner said.

Homies was big in the 90s so we're really excited to be bringing it back." There were over 150 million units sold as capsule toys in vending machines in the 1990s (see "'Homies' Come to Publishing"). "They wanted us to bring them back... in a blister pack /gravity feed." Brenner said.



Legendary Encounters Alien Expansion is due in May. "It focuses a lot on the Alien queen, so there will be a lot ot of Queen dynamics going on, as well as more marines, more chaos."

Releasing in August is Legendary Encounters Firefly, the third in the Legendary Encounters line (see "Upper Deck to Release 'Firefly Legendary Encounters'").

The Crow: Fire It Up board game will be a 1 vs 4 game, with one player taking the role of Eric Draven, the others playing as gang members trying to burn down Detroit and stop Draven. Specific release date and MSRP were not announced.

Shark Island by Richard Launius (Arkham Horror, Defenders of the Realm) and Pete Shirey. "It's a game they showed me a few months ago, at Alliance, and we had a really good time playing it. Instantly decided we wanted to work with these guys." The game is a one-versus-many game, where one shark terrorizes an island. Release is planned for August 2017 to coincide with Shark Week. MSRP was not announced.

Dark Legacy, designed and illustrated by Bryan Tillman, is a two-player RPG/card game hybrid. "It has a very unique battle mechanic," Brenner said. Release is planned for 2017. Tentative MSRP is $29.99.