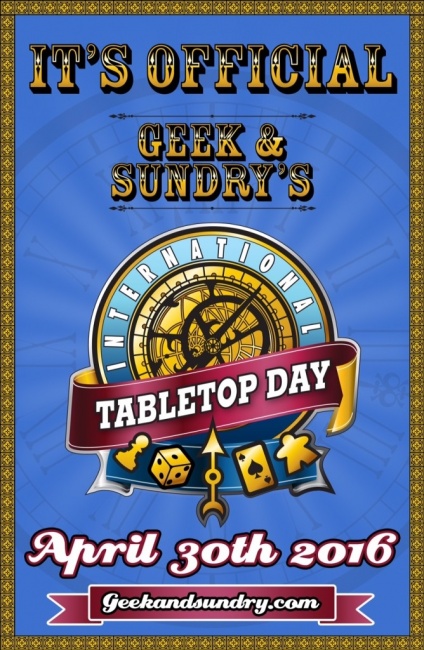 Geek & Sundry is revamping its International TableTop Day (ITTD) for 2016, the company told ICv2. This year will mark the fourth year of the ITTD celebration, which will take place on April 30. The news came as Geek & Sundry relaunched its website with a new look and a more visible focus on gaming.

There will be two levels of retailer participation this year, according to a company spokesperson. ITTD kits for retail stores are being created by Geek & Sundry. Each kit will have event-exclusive items from 11 publishers. The items were curated by the Geek & Sundry team, including Felicia, Wil, and Ryan, from submissions. Only 300 kits are being produced, and retailer requests for participation exceeded that number within three weeks of the announcement.

There is also a Participant level open to additional stores, which includes access to the digital assets for ITTD (which are also available to the stores getting kits).

"(F)or ITTD we wanted to take it back to being all about gaming, bringing people together and getting them out to FLGS around the globe — the spirit of what this is about," the spokesperson told ICv2. "To do this though is a HUGE endeavor when reimagining an event of this scale."

The changes address a common complaint from last year (see "Rolling for Initiative--A Word with Manufacturers about TableTop Day Promos"), which was that the promo kits contained too many items (from 20 publishers) to use in a single day (see "International Tabletop Day Promo Kits Revealed").

On the other hand, there's been a big reduction in the number of stores that will receive ITTD kits. A total of about 250 premium kits and 600 regular kits were sold last year.

Going forward, Geek & Sundry has announced a new Preferred Partner Network for retailers, which they bill as a "curated destination for locating friendly local game stores around the world." The Network is currently in beta, limited to 50 stores which are hosting game nights which feature specific games. ITTD is the last event for the beta.

The company plans to open up the Preferred Partner Network to more US stores after ITTD, and is working to expand the network worldwide by 2017.

Geek & Sundry is managing store relationships directly through its website.

On April 10, Geek & Sundry will be putting out a video with additional details about this year's event.