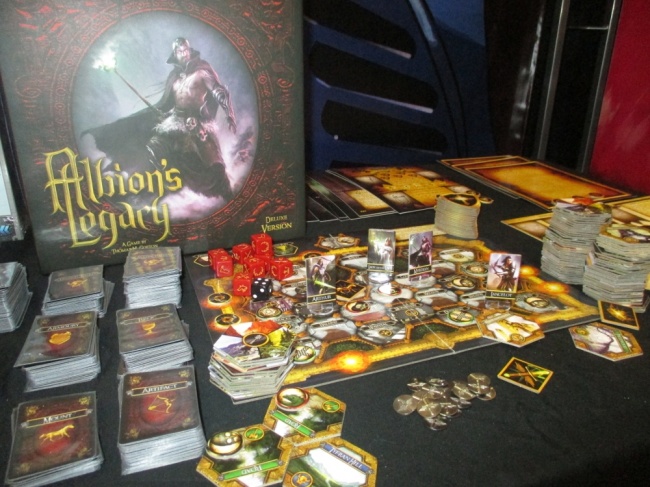 At the GAMA Trade Show, Jasco Games shared information on its upcoming board game release, Albion's Legacy.

The original Albion's Legacy, a cooperative modular-adventure set in Arthurian times, was designed by Thomas Gofton of Lynnvander Studios and funded via Kickstarter in 2014. "They made a few thousand units and it was all distributed to their backers and then Impressions distributed the rest of it and it sold out in about a month," Jasco's Nathan Prueitt told ICv2.

"Even though it was of very poor quality, the owner …was so upset about the quality of the game that he printed a second edition on his own dime. He had it remade with a different printer. When it came in, he shipped it out at his own expense just to replace the old copies of the first edition at no cost to the backers. I think that's a really good story for people to know about Lynnvander and this game because the owner really takes care of his clients."

Jasco will be publishing a new edition of the game with Lynnvander, which it began working with last year (see "Jasco Games Acquires 'Dragon Ball Z,' 'Cowboy Bebop'").

In the game, players take the role of King Arthur and his allies exploring Albion in search of different realms, trying to collect enough quest coins to win the game. Players will face various enemies along the way, and must challenge them with the Stones of Chance (dice).

The box contains: 8 playable character cards and standees (King Arthur, Queen Gwenivere, Myrddin Emrys (Merlin), Sir Gawaine, Sir Lancelot, Sir Mordred, Dame Ragnelle and The Lady of the Lake), 4 plastic character bases, 3 story quests, 12 metal quest coins, over 100 enemy tokens,133 playing cards (items, armory, stables, threats and more), Castle Camelot playing board, 50 modular realm tiles,2nd edition rulebook, 8 etched stones of chance (d6's), and 4 reference cards.

The game is for 1 - 4 players. MSRP and release date were not announced.