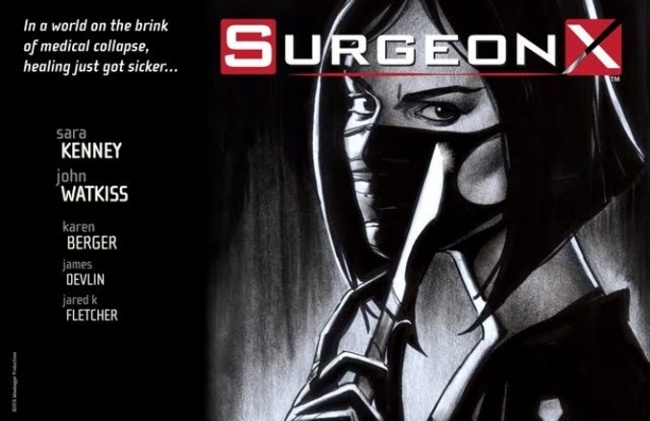 Image Comics announced the return of Vertigo founding editor Karen Berger to comics at Image Expo in Seattle today, with the news that she is editing Surgeon X, a new title written by Sara Kenney with art by John Watkiss.

Berger's return to comics is significant because during her nearly 20-year tenure at Vertigo, she developed work by Neil Gaiman, Alan Moore, Scott Snyder, Bill Willingham, Brian K. Vaughan, Garth Ennis, Grant Morrison, Brian Azzarello, and many more. She's been absent from the field for over three years, since her departure from DC almost exactly three years ago (hmmm, almost like something expired), in March of 2013 (see "Karen Berger Leaves Vertigo").

The story of Surgeon X takes place in a future where an antibiotic apocalypse has decimated London. Dr. Rosa Scott, a former surgeon, has become Surgeon X, a vigilante doctor. She operates under her own warped moral code, and has developed a god-complex as she decides which of her patients live or die. The comic will launch in Fall 2016.

Berger described her interest in the title. "When I first heard this original and compelling concept, I thought it was time to get back into comics again," she said. "I love that it explores the consequences of a world where the bedrock of modern medicine has crumbled, where people must adapt to a dangerous new reality, and where the lead character's subversive nature makes us question our own sense of ethics and morality. So excited to be working alongside the fabulously multi-talented creator/writer Sara Kenney and the brilliant, masterful artist John Watkiss. Sara's vision is frighteningly real and beautifully executed."

Surgeon X was funded by Wellcome Trust, a foundation devoted to improving health, through a Society Award.