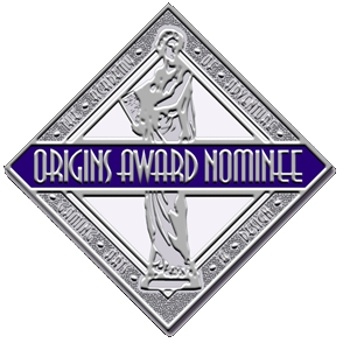 The Academy of Adventure Gaming Arts and Design (AAGAD) has released the list of games nominated for the 2016 Origins Awards. The awards will be presented during the annual Origins Awards Ceremony, held on Saturday, June 18.
This year the AAGAD updated the categories (see "AAGAD Updates Origins Awards Categories") and brought back the popular Game of the Year. All members of the Academy will vote for the winner in each category.
Best Board Game
Champions of Midgard – Grey Fox Games, Designed by Ole Steiness
La Granja - Stronghold Games, Designed by Michael Keller (II) and Andreas Odendahl
New York 1901 – Blue Orange Games, Designed by Chenier LaSalle, Vincent Dutrait
Orleans - Tasty Minstrel Games, Designed by Reiner Stockhausen
Star Wars: Imperial Assault - Fantasy Flight Games, Designed by Justin Kemppainen, Corey Konieczka, Jonathan Ying
Best Card Games (includes dice and deck-building games)
7 Wonders Duel – Repos Productions (Asmodee NA), Designed by Antoine Bauza , Bruno Cathala
The Grizzled - Cool Mini or Not, Designed by Fabien Riffaud , Juan Rodriguez
Medieval Academy – IELLO, Designed by Nicolas Poncin
Welcome to the Dungeon - IELLO, Designed by Masato Uesugi
Ashes Rise of the Phoenixborn -Plaid Hat Games. Designed by Issac Vega
Best Collectible Game (all games with a collectible component)
DC Comics Dice Masters: War of Light – WizKids, Designed by Mike Elliott, Eric M. Lang
Force of Will - Force of Will, LLC, Designed by Eiji Shishido
Yugi's Legendary Decks - Konami Digital Entertainment, Inc., Designed by Konami Digital Entertainment, Inc.
Best Role-playing Game
Cthulhu Britannica London Boxed Set - Cubicle 7, Designed by Dominic McDowell-Thomas, Jon Hodgson, Stuart Boon, Paula Dempsey, Steve Dempsey, Scott Dorwood, Bert Kramer, David Wade, James Wallis, Andrew Kenrick, Peter Wright, Paul Fricker, Mark A. Latham, James King, Alistair Montgomery, Marc Torley, David Walker
Dracula Dossier Director's Handbook - Pelgrane Press, Designed by Kenneth Hite, Gareth Ryder-Hanrahan
Fall of Magic - Heart of the Deernicorn, Designed by Ross Cowman
Lone Wolf Adventure Game - Cubicle 7, Designed by Joe Dever, August Hahn, Vincent Lazzari, Richard Harrison, Gary Astleford, Andrew Kenrick
Star Wars: Force and Destiny - Fantasy Flight Games, Designed by Jay Little
Best Family Game
Codenames - Czech Games Edition, Designed by Vlaada Chvatil
Co-Mix - Ares Games, Designed by Lorenzo Silva
Dohdles! - Thames & Kosmos, Designed by Klaus Teuber
Fuse - Renegade Game Studios, Designed by Kane Klenko
Me Want Cookies – IELLO, Designed by Roberto Fraga
Best Miniatures Game
Frostgrave - Osprey Publishing, Designed by Joseph McCullough
Guild Ball – Steamforge, Designed by Mat Hart, Richard Loxam
Star Wars Armada - Fantasy Flight Games, Designed by James Kniffen Christian T. Petersen
Warhammer: Age of Sigmar - Games Workshop, Designed by Games Workshop Design Studio
Wrath of Kings - Cool Mini or Not, Designed by Michael Shinall
Best Game Accessory
Blowing Up the Movies - Atlas Games, Designed by Robin D. Laws
Castle Panic: The Dark Titan -Fireside Games, Designed by Justin De Witt
Feng Shui 2 GM Screen: A Fistful of Fight Scenes - Atlas Games, Designed by Robin D. Laws, Morgan Ellis,T.S. Luikart, Hal Mangold, Rick Neal, Jack Norris
Pathfinder Battles: Dungeons Deep – WizKids, Designed by Paizo Inc. and WizKids
Terrain Tiles - Lost Battalion Games, Designed by Becky Siebe