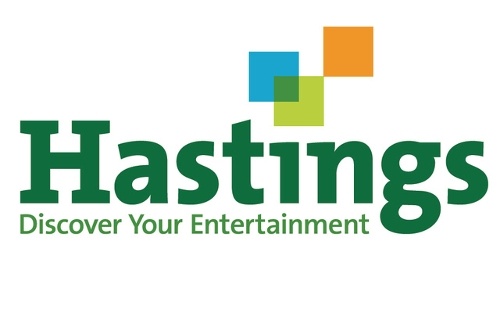 Retail chain Hastings Entertainment has given its 375 headquarters employees in Amarillo, Texas a "plant closing notice," a warning under the WARN Act that "mass layoffs" may occur, according to
KFDA TV
. The law provides that if a "mass layoff" occurs (our recollection is that the cutoff is 50 employees or more), 60-day notice must be given, and employees must be paid for that entire period whether they are working or not (unless they quit).
Hastings COO Jim Litwak told employees that the company "is actively seeking buyers or investors that will give us the additional financial stability we need to move forward," but that the company had to plan for what would happen if those efforts were unsuccessful, which led to the layoff notice.
The Hastings chain was acquired by a company controlled by WizKids parent NECA owner Joel Weinshanker in July of 2014, taking out the company-founding Marmaduke family (see "
NECA/WizKids Owner Buys Hastings
"). At the time of the acquisition, the company was operating 126 stores averaging 24,000 square feet. It has recently begun a new store model by remerchandising 20 stores, "which are already showing improved performance," according to Hastings VP-Marketing and Advertising Kevin Ball.
Hastings was bleeding money before it was acquired (see "Hastings Sales Slide Continues"), and remerchandising stores isn't cheap. At this point it sounds like there isn't enough capital in the company to make the pivot, and Weinshanker is apparently unwilling to increase his investment, hence the search for additional capital or a new owner.
It's been a tough decade for stores that sell packaged media, with from some to nearly all of their sales moving to digital delivery, dominated by a handful of Internet giants, and the remaining physical sales under ferocious assault by Amazon. So like Hastings, they're moving to products that can't be delivered digitally, a strategy being pursued by GameStop (see "
Gamestop a Growing Force in Geek Mercha nd Games
"), f.y.e. (see "
Trend Sales Up 65% at Trans World
"), Barnes & Noble (see "
Barnes & Noble Expands Game Events to All 640 Stores
"), and others. Hastings is a significant retailer of comics and graphic novels, games, and merch.
Weinshanker's been fishing in those waters, picking up the 42-store MovieStop chain in November of 2014 (see "
NECA/WizKids Owner Adds 42 Stores
"), and the Movie Gallery assets in 2010 (see "
WizKids Parent Buys Retailer Assets
"), in addition to Hastings. Now he appears to have made the decision to cut his losses in retail by selling all or part of his largest retail asset. Apparently the pipeline to the consumer for the plethora of licensed products produced by NECA (and WizKids) has proved less lucrative than hoped.