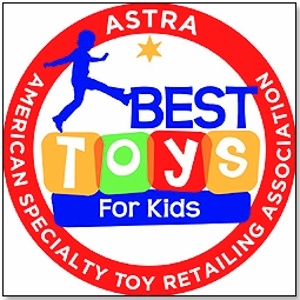 Several well-known hobby games were included in the American Specialty Toy Retailing Association (ASTRA)'s 2016 Best Toys for Kids award winners.
"ASTRA's Best Toys for Kids award program is different from other top toy lists because it reflects the collective expertise of hundreds of toy retailers who know toys inside out," said Kimberly Mosley, President of ASTRA. "The list of winners is a well-balanced representation of the fun, top-quality, high play value products consumers can find in locally-owned neighborhood toy stores around the country."
The full award program covers categories including Constructive Play, Creative Arts Play and Pretend – Doll Play. ICv2 chose to present the categories relevant to hobby game store owners.
Game Play 3 – 5 Years
Little Red Riding Hood – Smart Games
Balance Beans – ThinkFun
Game Play 6+ Years
Happy Salmon - North Star Games
Game Play 8+ Years
Dr. Eureka – Blue Orange Games
Classic Play 0 – 7 Years
Rat-A-Tat Cat - Gamewright
WOW Flip 'n' Tip Fred – Reeves International, Inc.
Choose Your Own Category
Sneaky Cards – Gamewright
Rock and Roll It! - Piano -MukikiM Toys