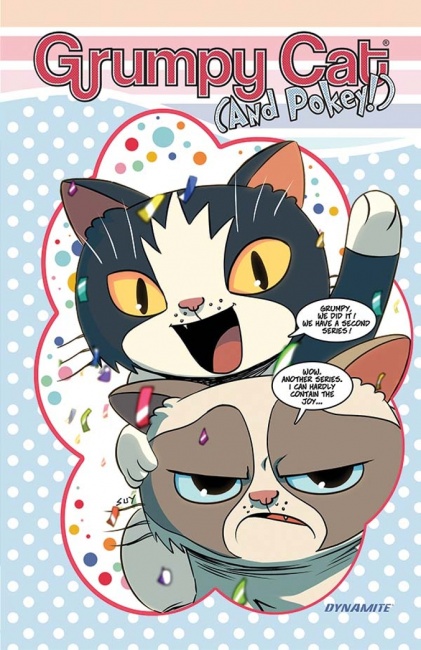 The print run for the second collection of comics featuring Internet sensation Grumpy Cat,
Grumpy Cat Vol. 2: Grumpy Cat & Pokey,
will be 140,000, according to publisher Dynamite Entertainment.
Grumpy Cat Vol. 1: Misadventures
had preorders of over 100,000, which included significant commitment from Scholastic Book Fairs and the book channel (see "
First 'Grumpy Cat' Hardcover Pre-Sells Over 100,000
"
). Comic channel release is July 13, book channel release is planned for July 26.
All-together,
Grumpy Cat
has sold over 500,000 comics and graphic novels combined for Dynamite, the company said.

"
We have heard tremendous feedback from both our retail partners and fans of all ages," said Nick Barrucci, Dynamite CEO and Publisher. "We've sold an incredible number through retailers in and out of the comics market, as well as special softcover collections for Scholastic, and hardcovers for the direct market, bookstores, and libraries."
The new collection was announced in May (see "
'Grumpy Cat & Pokey' HC Headlines Dynamite's Summer Books
"
). It features over a dozen short stories written by Ben McCool, Royal McGraw, Ben Fisher, and Elliott R. Serrano; and featuring art from Ken Haeser, Steve Uy, Agnes Garbowska, and Michelle Nguyen. MSRP is $12.99.