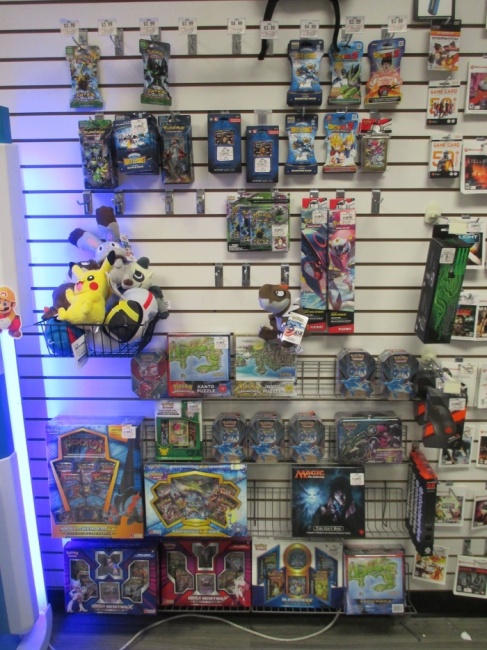 GameStop Corp., which operates over 7500 stores in 14 countries, wants to be the "global leader" in retailing collectibles merchandise, the company's executives said this week, and is . "[I]f you look at the [collectibles] category today, it's highly fragmented," GameStop Chief Financial Officer Rob Lloyd told analysts in the company's quarterly conference call this week (transcript via
Seeking Alpha
). "There's no single player that has more than probably 10% or so share in this category. And it's split up…various kinds of players from mass merch especially to retail to online, a lot of one man shops and so on. So, as we go into this category what we see is there's a real opportunity for GameStop to become… the global leader in this." The company is targeting $1 billion in retail sales of collectibles merchandise by 2019, up from an anticipated $475 million in the category this year.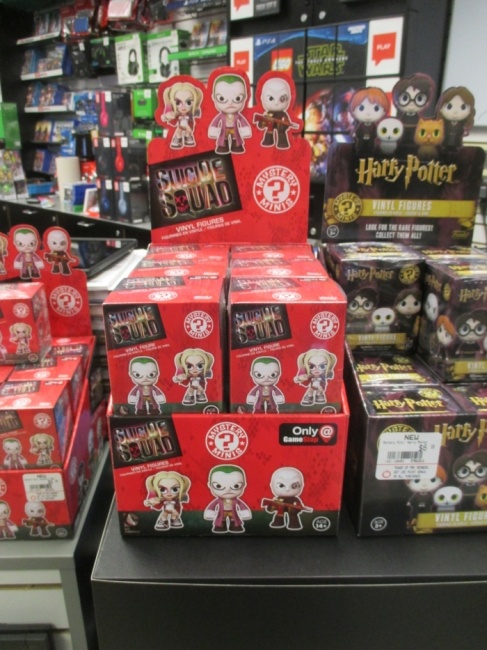 GameStop collectibles sales were $90 million in the quarter ended July 30, up 120% from the year ago period. Sales of Pokemon products of all kinds, Five Nights at Freddie's, and Pop! Vinyls tied to
Suicide Squad
were especially strong in the quarter, the company revealed.
Meanwhile, video game sales, GameStop's legacy core category, were down sharply in the quarter, behind weak releases: hardware sales were down 33.4%, and video game software sales were down 18.2%. U.S. comparable store sales were down 12.5% for the quarter as a result.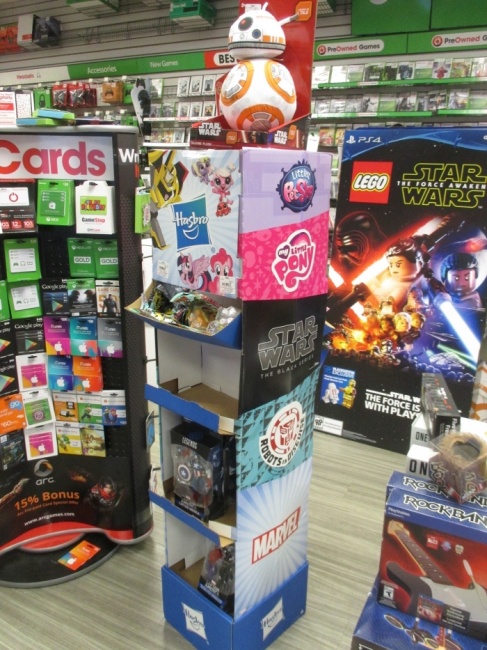 GameStop has a multi-pronged strategy to increase its sales of collectibles. First, it's expanding the space devoted to collectibles in its stores, with a 100% increase in the recently completed quarter vs. a year ago. Accompanying this article are some photos we took at a GameStop store in Madison, Wisconsin in July 2016, showing some aspects of what we expect is fairly typical product mix. The mix included a substantial collectible game display, a floor display with figures from four properties from Hasbro, trading figures near the check-out, and high-end video game-licensed figures from Japan.
Second, it is testing a store within a store concept in which over one-third of the floor space is devoted to collectibles. GameStop plans to have this concept in 300 stores before the holiday season.
Third, the company opened 10 dedicated collectibles stores worldwide during the quarter and now has 47, including four ThinkGeek stores in the U.S.
Fourth, the company plans to expand from the base provided by ThinkGeek to develop more of its own exclusive licensed products. With its huge retail footprint, this will be a relatively easy sell to companies anxious to get prominent placement for their products in thousands of stores.
Fifth, the company will pursue an omni-channel strategy leveraging interactions between its brick-and-mortar and online retail operations. And sixth, it will use information from its loyalty club to target customers with collectible product offerings.
GameStop told analysts that the collectibles category is an $11 billion industry in the U.S., which it helpfully points out is nearly as large as the physical video games category, GameStop's disappearing core business. Toys and games is the biggest part of that, at $3.7 billion.
It definitely has a running start. GameStop collectible sales grew 300% in the fiscal year that ended January 30 (see "GameStop a Growing Force in Geek Merch and Games"), behind its acquisition of ThinkGeek (see "GameStop Wins Bidding War") and its other growth strategies.
GameStop will have competition as it builds out its merch strategy, from Hot Topic, Trans World, and others (see "Suddenly, Brick and Mortar Is Back in Style"), but there are few competitors that have the sheer retailing weight of GameStop, the ability to rapidly reformat stores, and the money to do it.
Is this the long-expected chain competition for independent comic and game stores? While the product categories are only partially overlapping now, things may be headed in that direction. Stay tuned.
Click Gallery below for all collectible display photos!