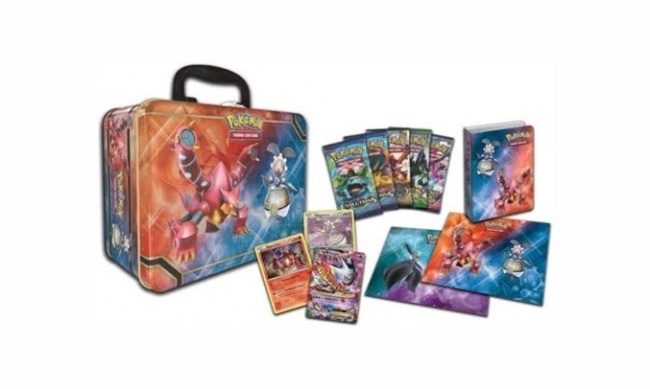 There are a several
Pokemon TCG
products coming out in November from Pokemon USA.
The
Pokemon TCG: 2016 Collector Chest Tin
comes out on November 1. It features three foil promo cards featuring Volcanion, Magearna, and Shiny Mega-Gengar-EX. It contains five booster packs, a coin, two sticker sheets, a mini album, a notebook, pencils, and a
Pokemon TCG Online
code card. MSRP is $29.99.
The
Pokemon TCG: Gengar-EX Box
arrives in November, but does not yet have a specific release date. It features a foil promo Gengar-EX, four
Pokemon TCG
booster packs, a special oversize foil promo Gengar-EX, and a bonus online code card to unlock Gengar-EX as a promo card in the
Pokemon TCG Online
. They are also releasing another product, the
Pokemon TCG Kangaskhan-EX Box
, which substitutes Kangaskhan-EX for Gengar-EX. MSRP is $19.99 for each box.
On November 11, Pokemon USA will release
Pokemon TCG: Alola Collection
, a collection which focuses on the tropical land of Alola and the never-before-seen Pokemon of that region. It features either the Legendary Pokemon-GX Solgaleo or Lunala, with a foil oversize card, a sculpted figure, and a collector's pin depicting the featured Pokemon. It also includes three special foil promo cards featuring Rowlet, Litten, and Popplio, five
Pokemon TCG
booster packs, and a code card for
Pokemon TCG Online
. MSRP is $29.99.
Pokemon Go
has had a major impact on this brand; in late August, ICv2 spoke with VIZ execs to discuss one aspect of this upswing in interest in
Pokemon
(see "
'A Global Phenomenon with the Force of a Tidal Wave'
").