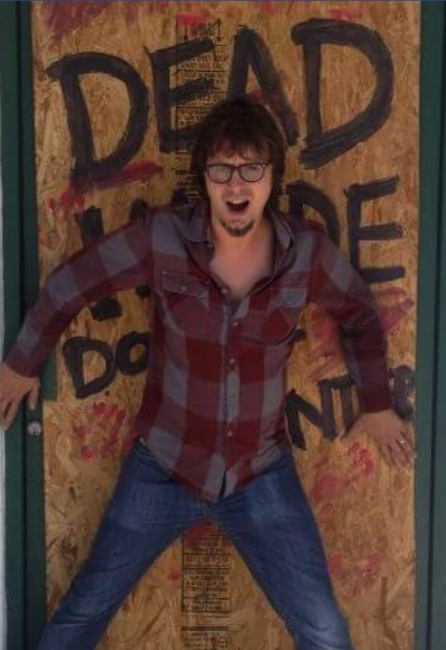 In Business 3x3, a business retailer or executive will share their experience with three things they've done right, three things they've done wrong, and what else they've learned along the way.
Mike Wellman took a back door into comic retailing. In a way, he has Gambit to blame.
Wellman was a customer at S&S Cards and Comics in North Carolina in 1993 when the Gold Edition of the new Gambit #1 caught his eye. He asked the store owner's wife how much it was. She said it was cover price, $3.00, but Wellman said he was pretty sure it should be more. He asked her to hang on to it and make sure.
Sure enough, she called him back later and said it was a $30.00 variant. She was impressed by his honesty, and offered it to him at $25.00. Wellman couldn't afford it, but there was an upside.
"The next time I went in to the store, they offered me a job," he says.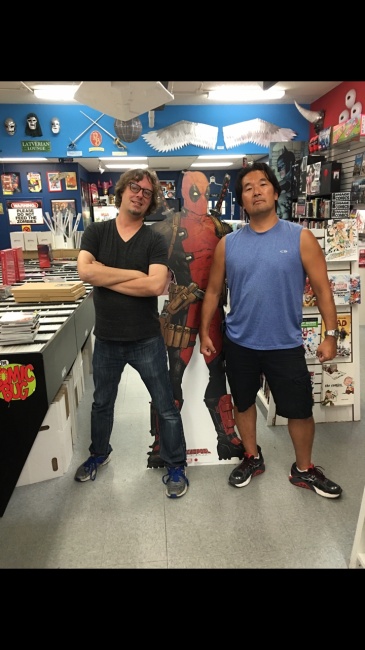 Wellman worked there from 1994 to 1997, and then, like 98% of the population, moved to Los Angeles to get into showbiz. He didn't wind up in movies, but his retail experience landed him a job at Geoffrey's Comics in Gardena, CA. By 2004, he partnered up with Jun Goeku, and they founded their own store, The Comic Bug in Manhattan Beach, CA.
The 'Bug has prospered, and Wellman and Goeku took over another store to create a second location in Culver City, CA. Along the way, Wellman has learned a lot, both good and bad.
THE GOOD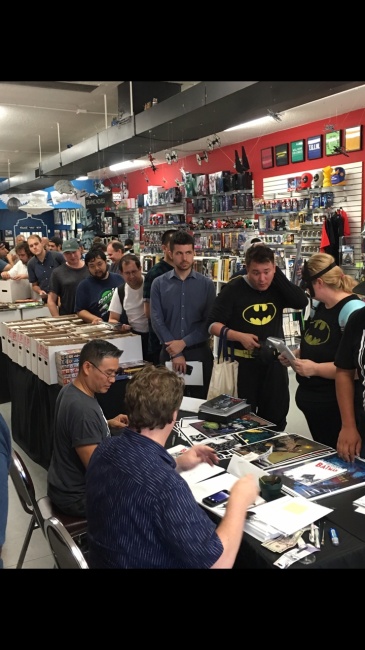 Network, Network, Network
Wellman is a bounce-off-the-walls-type who talks to everyone, and networks like crazy. Last year, Comikaze, a Los Angeles comic con, posted a call to see whom people wanted to see as guests at their convention. A lesser-known L.A.-local creator ("It wasn't Stan Lee or Jim Lee, I'll tell you that," Wellman says) asked Wellman to throw their hat in the ring. A simple Facebook post led to a call from one of the convention organizers, who wanted to have lunch the next day. The lunch quickly led to a Comic Bug pavilion at Comikaze with the 'Bug bringing in creators.
"And that led to a retail contest with whoever sold the most tickets getting an in-store appearance from Stan Lee," Wellman says. "And we won. So Stan Lee was at our store on Free Comic Book Day."
Wellman believes in the power of networking.
"It all came from helping this one comic creator who wanted to be a guest at Comikaze," he says. "All these things are very circular. They all pay back."
And Wellman treats everyone equally.
"It's genuine networking," he says. "It's not just, 'Ooooh, this person is a big somebody and maybe they can help me.' You help everyone. If they're your friend, you do it. And it pays off."
Be Open to Everybody
Los Angeles is an eclectic community, and The Comic Bug personifies that.
"We've always been the shop where everybody goes," Wellman says. "Different people, different attitudes, different walks of life, everyone is represented here. It just grew naturally, and I love that."
And Wellman has gone out of his way to court all walks of life.
"I did the first ever - to my knowledge - diversity panel at a comic convention," he says. "It wasn't just gays in comics, blacks in comics, but everybody. We discussed different perspectives, and it was really a positive experience."
Wellman sees people coming together at the 'Bug.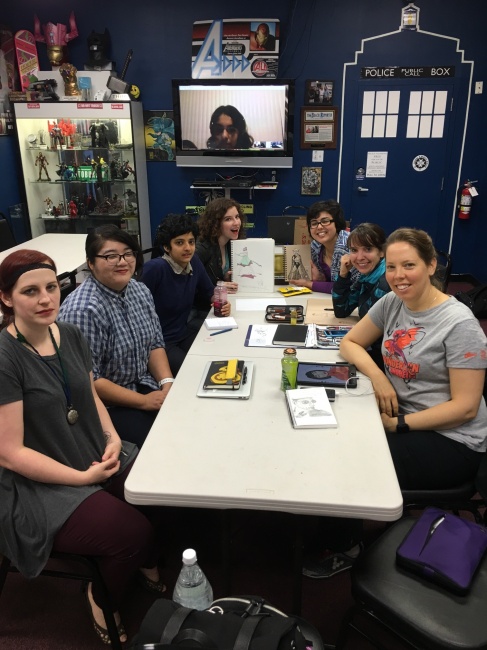 "Every Wednesday night, we have a big group that comes in and creates comics in the back, the Sketchy Bugs, we call them," Wellman says. "The group got so big that it spun off a second, female-only group on Thursday nights, the Lady Bugs. Both were just a natural, organic thing; a process of people meeting up and enjoying each other's company."
Wellman is happy to see different groups… and to have product to sell them.
"I think it changed with the debut of Spider-Gwen," he says. "Before that, you'd hear, 'Oh, we can't do a Black Widow series because female-lead books don't sell, or black characters don't sell," or whatever. But now you see Marvel attaching broader diversity to their icons with Spider-Man, a female Thor, Sam Wilson as Captain America. There's something for everyone."
Understand the Creative
Wellman writes and publishes his own comics as well at Atomic Basement Entertainment. He knows what it's like on both sides of the fence.
"I know the expense and the man-hours that go into it," he says. "So I treat creators really, really well here. They keep 100% of their sales when they sign here. It's my hope that they promote their appearance to their fans, and it brings new people in to experience the stores."
THE BAD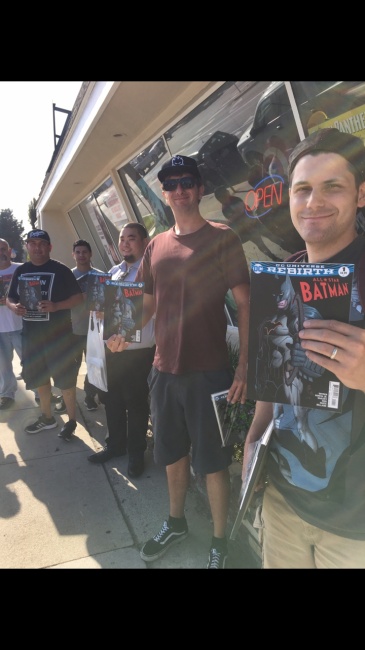 Know When to Say 'No'
The Comic Bug is a hotbed of activity, with many of those activities happening nights and weekends. That… can get to be a problem.
"I say 'yes' to everything," Wellman laughs. "I'm a dad and I like to spend time with my son after work, but I'm also crushed by a steady onslaught of events at the store."
And yes, being a "victim of your own success" sure feels like a real thing.
"One successful drink-and-draw event becomes an ongoing monthly thing. Comedy night is now a monthly thing," Wellman muses. "But your time really gets chopped up doing all these events. I don't regret the events, but they become this nonstop locomotive, and I wish I was better organized."
Rule and Regulate
The Comic Bug is a whirl of fun. But a little structure is a good idea, too.
"Jun and I have… abstract employee guidelines," Wellman says. "We tell people, 'Get your work done, be nice to customers, and whatever else has to be done in the day, do it.' But we don't have an employee manual or anything, and now that we have two stores, I think we need one."
The lack of regulation can cause problems. An employee was fired a few years ago for dipping out of the till.
"We caught it," Wellman says. "But it had been going on for a while. Now we have security cameras in the store. There's always going to be something that comes out of left field, but we have to start being better prepared for that."
Keep Your Opinions to Yourself
Wellman's Atomic Basement comics can be satirical, none more so than Tex, an anti-George W. Bush comic from 2004.
"I can be a divisive person at times," Wellman admits. "I try to keep that out of the workplace, but it can be a struggle."
Still, Wellman tries to find balance.
"It's turned Jun into a Republican just to balance out my barefoot, liberal hippie sensibilities," he laughs. "He says, 'Hey, I need to be the guy the other half of our customers can identify with.' So…yin and yang and all of that."
AND WHAT ELSE?
"We had a guy who was stealing $200-plus Sideshow Collectibles figures. There was a customer who I suspected was stealing them, but I wasn't sure. He worked at a Target around the corner. So one day I went to Target to buy a power strip, and I asked the guy to show me where the power strips were. As we were walking over, I said, 'Hey, man, I didn't know you collected Sideshow action figures.' He said, 'I don't.' So I said, 'Then why are you stealing them from us?'"
"He went all sullen and his face turned gray. He said, 'Oh, man, I'm going through some hard times…' and I said, 'Yeah, I'm going through some hard times, too, but I don't come here and steal from Target.' I told him I knew what he had stolen, and he'd better bring them back in the next day. He brought them in, and had sold a few already, so we made him bring in the cash from what he had sold. I'm pretty relentless about that."
"I've worked at video game arcades and video rental stores, both of which have gone the way of the dinosaur. I don't think I'll be the kiss of death for comic shops, though. We're doing great, and I'm excited by this industry and its creativity and our customers every day."