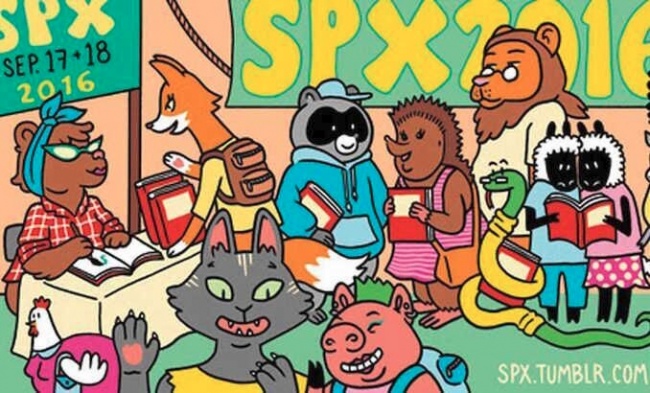 The Small Press Expo (SPX), the best-known American comic arts festival, was held this past weekend, September 17-18, at the Bethesda North Marriott Hotel and Conference Center in Maryland.
From opening on Saturday at 11 AM, where attendees were lined up to get in, through mid-afternoon, crowds were solid, making for good business for publishers and artists alike. Show Executive Director Warren Bernard expected over 4,000 people to attend, which would match last year's total.
Bernard described the show as a "Halley's Comet event" due to the presence of special guests celebrating the 40th Anniversary of Fantagraphics, a long-time SPX supporter. These big-name artists included Daniel Clowes, Joe Sacco (who last appeared at a US festival in 2004), Trina Robbins, the Hernandez Brothers, Drew Friedman, Jim Woodring, and Carol Tyler.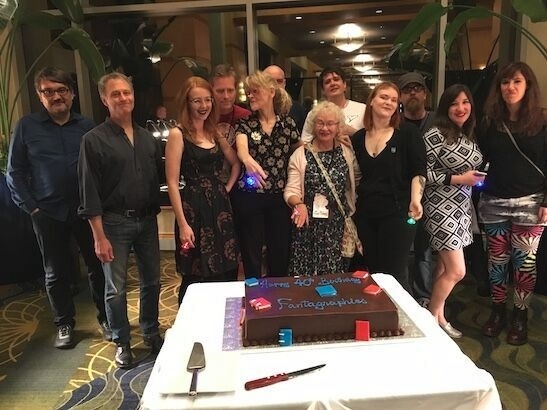 Eric Reynolds, Associate Publisher at Fantagraphics, confirmed that this was the "biggest lineup of creators they've ever had at a show." The anniversary was celebrated by a grouping of Fantagraphics creators and staff with cake after the Ignatz Awards on Saturday night.
The focus on well-known creators with long careers contrasts with last year's show, when all the special guests were those who first began working in the 21st Century. The flexibility of tone is a virtue of the show, with an overall mission of supporting comic arts and cartooning reflected in different ways each year. The collegial feeling and camaraderie that comes with most guests and attendees staying on site is a continuing draw, regardless of the year's theme.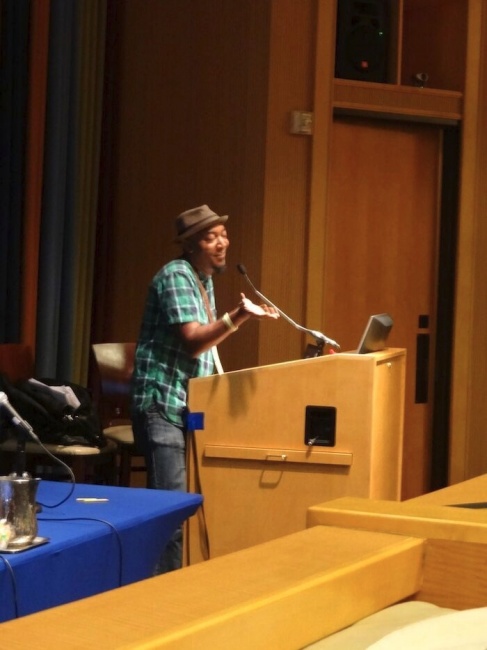 A programming highlight was Keith Knight's slideshow "They Shoot Black People, Don't They?" He used his most notable cartoons from his
K Chronicles
and
(th)ink
strips to comment on race-based interactions in America, as well as covering his life and career. The presentation was well-received by the full theater.
Notable books debuting at the show included:
Mooncop by Tom Gauld, signing at the Drawn & Quarterly booth
Sarah Glidden's Rolling Blackouts, also from D&Q
Lucy & Andy Neanderthal by Jeffrey Brown, another of his kid-friendly humor works
Drew Weing's The Creepy Case Files of Margo Maloo from First Second
Equinoxes by Cyril Pedrosa, brought to the show by NBM
Saturday night brought the Ignatz Awards ceremony. This award is a festival prize, with nominees selected by a jury and voted on by the show's attendees on Saturday. Host Nate Powell and a variety of presenters announced these winners:
Outstanding Minicomic: Radishes by Carolyn Nowak
Outstanding Story: My Hot Date by Noah Van Sciver
Outstanding Series: Powdered Milk by Keiler Roberts
Outstanding Anthology or Collection: Step Aside Pops by Kate Beaton
Outstanding Online Comic: Octopus Pie by Meredith Gran
Promising New Talent: Tillie Walden for I Love This Part
Outstanding Comic: Fantasy Sports No. 1 by Sam Bosma
Outstanding Graphic Novel: Hot Dog Taste Test by Lisa Hanawalt
Outstanding Artist: Tillie Walden for The End of Summer
Although Saturday's attendance was bigger than last year, Sunday was more sedate (perhaps due to a conflict with the Brooklyn Book Festival, which drew away some guests midway through the weekend). Publishers large and small reported good sales overall with steady traffic. New this year was the ability to buy tickets in advance, with about 700 sold, most two-day passes.