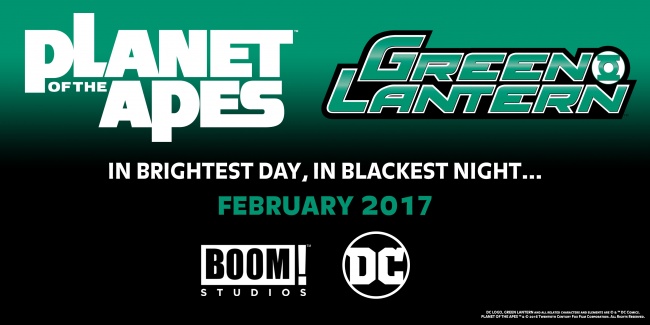 The universes of BOOM! Studios' Planet of the Apes and DC Comics' Green Lantern will be converging in a miniseries set to kick off in February 2017.

Details on the creative team are pending, but BOOM! and DC made the announcement in advance of New York Comic Con.

Planet of the Apes / Green Lantern crossover is the second such partnership between BOOM! and DC. The two publishers are currently co-publishing a six-issue crossover between Lumberjanes and Gotham Academy (see "'Lumberjanes' to Cross Over With 'Gotham Academy'"). The 5th issue of the series is due October 12.

Both franchises have been part of previous crossovers. Most recently, BOOM! partnered with Dark Horse on Tarzan on Planet of the Apes (see 'Tarzan on POTA,' 'Predator Vs. Judge Dredd Vs. Aliens'"), and Green Lantern appeared alongside IDW's Star Trek (see "DC, IDW Prep Batman/TMNT, Trek/Green Lantern Crossover Sequels").