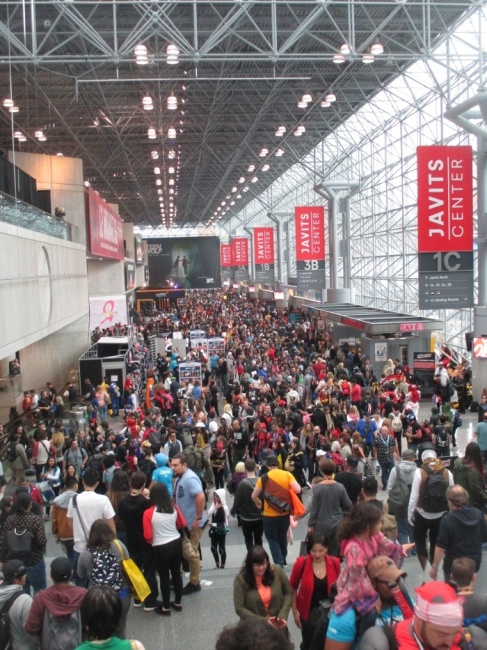 New York Comic Con News:
"We sold at least 185,000 unique tickets" to New York Comic Con, ReedPOP Senior Vice President Lance Fensterman told ICv2 Sunday. That's up from 167,000 attendees at the show a year ago (see "
ICv2 Interview: ReedPOP SVP Lance Fensterman
"), an 11% increase. The growth in attendees was accomplished by selling more single day tickets, especially for Thursday, Fensterman said. These ticket sale numbers do not include any separate tickets sold for "NYCC Presents" events that take place at venues other than the Javits.
New York Comic Con events, for which NYCC passes provided admittance, were held at four locations this year (Javits Center, Madison Square Garden, Hudson Mercantile, and the Hammerstein Theater), up from two venues last year and only one two years ago.
We noticed that despite a very busy event, the vibe seemed somewhat more chill this year, perhaps due to steps ReedPOP took to reduce the stress of attending. Among those changes were a ticketing system for the most popular panels that used the show's RFID badges rather than the wristband system that had been used in the past, and encouraging the company with the most popular show exclusives to adopt a system that didn't require racing to the company's booth.
"We went to a system where you didn't need to race around," Fensterman said of the panel tickets. "You just tapped your badge. You didn't need to get a physical wristband which made it more orderly."
"We also strongly encouraged Funko to go to a lottery system for their exclusives," he said. "We just brought some order to things and that removed some of the issues."
The Javits Center was festooned with sponsor banners on what seemed like every square inch of available space, but Fensterman said that banner space was not the only way sponsors achieved presence at the show. For example, Progressive Insurance hired 100 temps to act as sponsored line-sitters for attendees; they would find fans in lines, offer to take their place, and text them when it was time to come back. This was a new concept that had never before been used at any of ReedPOP parent Reed Exhibition's 500+ shows worldwide.
Changes will have to be made to the show for 2017. The North Hall, where Artists Alley has been sited the last few years, is going to be rebuilt, which will require the layout of the show to be reconfigured. "We're going to have to shuffle the deck a little bit, and hopefully find a way to expand the show more," Fensterman explained. Changes will definitely include the use of more offsite space.