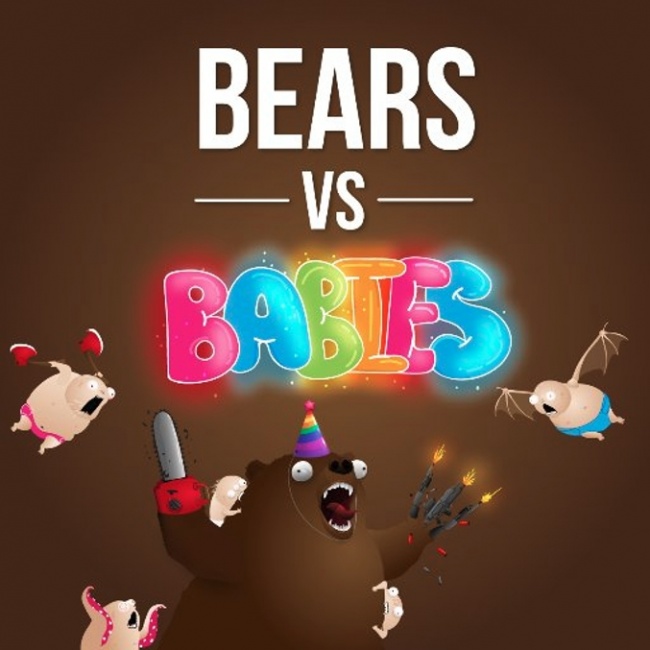 Matthew Inman and Elan Lee, the team behind the Kickstarter sensation Exploding Kittens (see "$8.8 Million Card Game Kickstarter Biggest Ever"), have returned to the crowdfunding platform with their new light card game Bears Vs. Babies.

Exploding Kittens attracted more than 219,000 backers in February 2015, and the game is now sold on Amazon.com. Exploding Kittens, LLC released an expansion to the game, Imploding Kittens on the same day the new Kickstarter launched (see "'Exploding Kittens' Gets Expansion").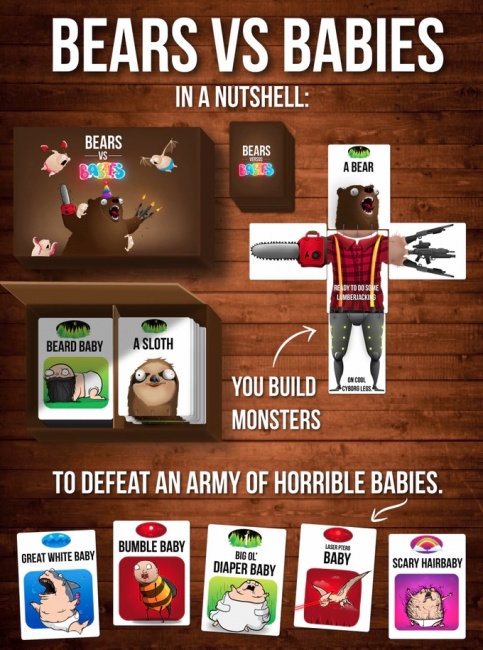 Bears Vs. Babies
was designed by Inman with help from Lee. Describing the game Inman said "I wanted it to be more of a deck-building game, such as
Dominion
or
Hearthstone
, but without all the complexity. I wanted a monster-building game you could easily play at a party." Players sit in a circle and take turns drawing cards, which will either contain parts to help build a creature, or babies, which are played in the center of the table, forming a baby army the players must stop. Players go to war with the babies when they draw a provoke card, and then the babies attack all players at once. If the players' creatures are stronger, they win and eat the babies. If the babies win, the players' army is devoured and discarded from the table.
The Kickstarter has raised more than $989,000 from over 26,500 backers as of this writing and will continue through November 17. The game is available in both a kid-friendly and NSFW version. Requests for trade release information were not returned in time for this article.
ICv2 has not updated its Top 10 Tabletop Games chart since July, but Bears Vs. Babies will certainly earn a place if it keeps up this momentum (see "Top 10 Tabletop Game Kickstarters").