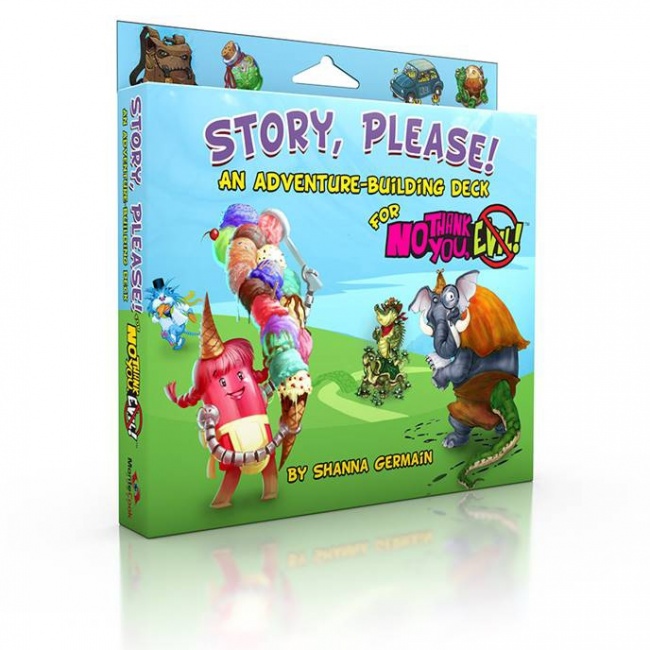 Monte Cook Games will release two new expansions for its kid-oriented role playing game No Thank You, Evil! next year: Story, Please! in March and Uh-Oh, Monsters! following later in the spring.

Story, Please! builds on the base game by providing a deck of 100 cards that help the Guide create and run adventures. The Guide can combine a Story Card with Place and Person Cards to define a quest for the players. Map and Handout Cards can be used to help bring the story to life, while Twists and Stuff can add complications and rewards for the players to face.

The Story, Please! Adventure Building Deck will release in March, 2017. MSRP is $19.99.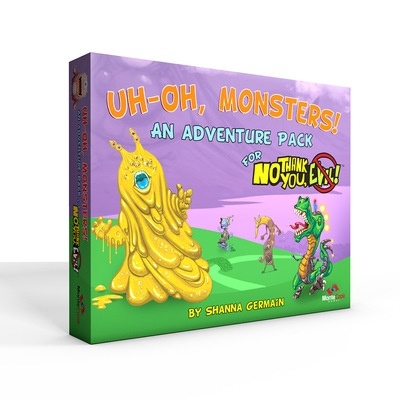 The focus of
Uh-Oh, Monsters!
is the creatures that adventurers might face in the world of Storia. This set includes two books:
Claws and Paws: The Monsters You'll Meet!
which describes a variety of monsters, people, and other creatures, while
Lairs and Scares: Let's Go on Wild Adventures!
presents three new ready-to-run adventure stories for
No Thank You, Evil!
Also included in the set are 30 new creature cards that can be combined with the cards from the base game and 15 creature standups.
The final release date for Uh-Oh, Monsters! has not been determined, but it is expected later in the spring. MSRP is $29.99.
Both expansions were created by Shanna Germain, lead designer of No Thank You, Evil!
Monte Cook Games is funding the production of both expansions through a Kickstarter campaign that has attracted 324 backers pledging $23,621 (an average of $72.90 per backer) with 15 days remaining. The campaign includes a retailer-only package with four copies of each expansion and a variety of promotional materials. Retailer backers will also receive their product significantly before the street date.
No Thank You, Evil! was released earlier this year to a favorable reception by game critics (see "More Details on Monte Cook's Kids RPG"), earning the ENnie Award for "Best Family Game 2016."