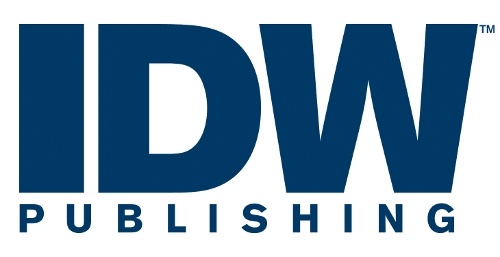 IDW Publishing has expanded far beyond its base in comics to incorporate both a wider range of paper products and a games division. We caught up with Jerry Bennington, IDW Publishing's Vice President of New Product Development (see "
IDW Promotes Jerry Bennington
"), the executive behind this diversification. In Part 2 of this two part interview, we talk about IDW Games, coloring books, and IDW Limited. In Part 1, we talked about IDW's Micro Fun Packs program.
We want to switch over to games, which is a relatively new division but has been growing. Any thoughts to doing collectible games in that division?
That comes up about once or twice a year. The collectible side of the gaming business is always very intriguing because of my background [at Upper Deck], but that is one of the difficult fields of the gaming business to actually have success in. I am very cautious with the collectible portion of gaming.
At this point we're seeing a lot of success with our boxed games, specifically with our mid-priced small box games, priced between $20 and $40. We've done very well and we have a nice plateful and I don't see any need in the immediate future to be adding collectible games at this point.
Coloring books are a new area for IDW?
Last year for Christmas coloring books were red hot. We started dabbling in it lightly and ramped up the line. Lead times are fairly long in the book market, but we've managed to put out about a dozen coloring books in the last 12 months. That includes some that were only sold in hobby, like
Danger Girl
,
Locke and Key
, an
Oz
one that was sold in the book market. We did some reformatting on them to bring them more in line with the adult coloring books that are having success in the book market. We came out with
Our Patterned World
, which is specifically targeting adult women. We did a second one,
My Wondrous World
, which is getting ready to hit shelves in the next couple of weeks. We did a coloring book for Alan Robert,
Beauty Horror
, a fantastic coloring book, all original art that he created for it. It's our bizarre twist on the coloring book business where it's got all of the amazing artwork to color, but it's all horror scenes. A really nice package with how it's being delivered. That title has seen really good success.
We are going to be putting out a
Princess Bride
coloring book this holiday season.
Do you think the coloring book phenomenon is cresting?
It's become more challenging because it's become highly saturated category. A lot of independent publishers were able to put out quite a bit. The offerings and choices are extraordinary. Certainly anything can make its way to an online retailer like Amazon, but it's very challenging to get shelf space at books, because they can't put every coloring book in there. They are very choosy about which ones they put in. Fortunately, that have been very supportive of our line.
It is cresting absolutely. I don't believe it's a category we'll see end, but it will absolutely plateau and evergreen.
What's going on with IDW Limited?
We're just retooling. We've had a lot of focus on the games, the coloring book stuff, but we've had a great success with our Marvel line. That was our primary focus over the last year. We released four different Marvel Artist Select books with Marvel, all four to fantastic success.
The first one was the
Sal Buscema's Incredible Hulk
, which is a collection of all of his greatest issues all in one collection, signed by Sal. We did a high end version that included original art by Sal. We followed it up with
The Avengers: George Perez
, collecting all the great stuff George has done on that title. We did
Herb Trimpe's The Incredible Hulk
. Sadly, he was only able to complete about two-thirds of the signature plates before he passed away, but his estate graciously asked us to release the book anyway. We put that one out, which is a nice retrospective on his legendary work on The Hulk. Just recently we released the
Bill Sienkiewicz New Mutants
collection which is all the work that he has done, which is just amazing. That one sold so well that we blew through our entire signed and numbered run, and in fact grossly oversold it. We're getting ready to prep a sketch version of copies that we've offered on our site. We've done 40 pen and ink sketches on a high end version and then very soon we're going to unveil a very limited run of painted sketches that he's done through our website.
IDW Limited is limited edition books?
IDW Limited started out with collections of hardcover books that are signed and numbered by various creators. Our focus on Limited has really been about the pairing of creators and signing them and specialty packaging and also making some high end offerings title dependent with original sketch art.
Those have really been the four main areas, between Limited, the Fun Packs, coloring books and obviously games. It'd say games is probably our biggest category that's really been growing the fastest. We continue to do very well. I'm a big believer in a balanced portfolio so a good blend of non-licensed vs. licensed games balanced with some small games, boxed games--micro-boxed games, games for under $20 and then games that are priced over $50. We'll do a few of those, with our sweet spot being in the $20 to $50 range.
Is Machi Koro your biggest hit?
Machi Koro
is our bestselling title from a unit standpoint (see "
'Machi Koro' Sales Top 100,000
"). Our
Teenage Mutant Ninja Turtles
miniatures game (see "
Kevin Eastman, Kevin Wilson Team Up on 'Teenage Mutant Ninja Turtles' Board Game
") from a revenue standpoint is one of our bestselling games right now.
When we look at the product types you're doing, it seems like you've tiptoed up to the line of merchandise, but not gone over it. Are you thinking about crossing that line into merchandise, or are you sticking with paper products?
We've been exploring adding some figural items like toys or other impulse items that are not just paper based. It's a much different license and a much different effort, and lead times are fairly long. One thing that we like is the fact that since they are paper goods, we can be very responsive very quickly. We can also have the flexibility to have a partner come in and can easily adapt the packaging for some exclusivity. So non-paper products are something we've certainly looked at but nothing we've really executed against at this time.
Any other new categories you're looking at?
Nothing we can talk into detail. We're definitely looking at a few new categories for 2017. We try to always put ourselves in a position of upside success and the best quality and effort. We never want to do that at the expense of things that are high priorities. Our gaming business has been a very high priority and it's showing in its results, but we will be slowly in the next six to eight months working on new categories.
Click here
to go back to Part 1.