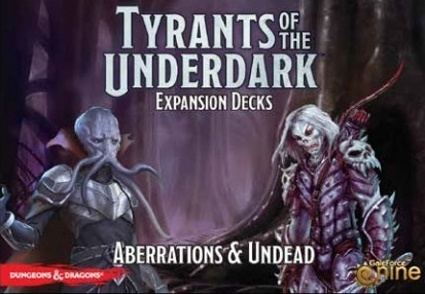 Gale Force Nine has announced
Tyrants of the Underdark: Aberrations & Undead
, a new expansion for
Tyrants of the Underdark
, their licensed board game set in the
Dungeons & Dragons'
Forgotten Realms Universe.
The new expansion includes two 40-card "half-decks" to expand play options, and requires the base game to play. The game further explores the Underdark territory battles from the first game (see "
Images and Info for New 'D&D' Board Game
"), with players taking on the roles of various underground powers. The new set includes regular Underdark creatures one might expect such as Illithid and Beholders, as well as a selection of undead.
The expansion releases in December; MSRP is $11.99 for both half-decks.