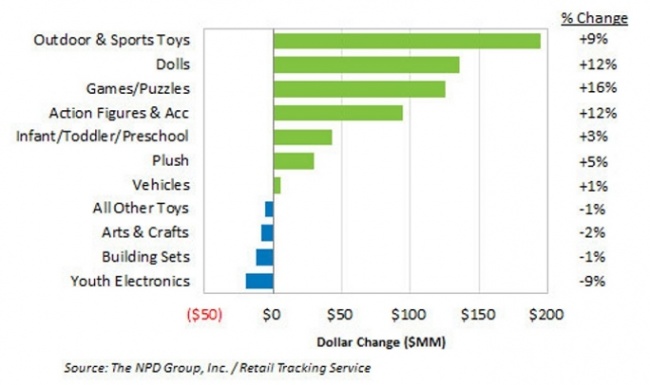 NPD Group, which tracks POS data from major retailers, is expecting a robust holiday season for its toys supercategory this year, especially games and collectibles, two categories in which it expects the fastest growth.
Games and Puzzles are expected to grow 16% for the year, with broad growth among subcategories family strategy and board games, brainteasers and adult games, and preschool games. Two games, UNO and Pie Face Game, are in NPD's top 10 selling items year-to-date. "The trend in games is definitely one to watch, and it will continue to flourish as families look for more together time," NPD SVP U.S. Toys Industry Analyst Juli Lennett said.
Sales of collectible toys in the major retailers NPD tracks, which fall under doll playsets and action figures, were up 64% or over $220 million year-to-date, with blind bags accounting for roughly one-quarter of that amount. Blind bags sales tracked by NPD are up 80% so far this year.
High-priced toys are another trend driving what NPD expects to be 6.5% growth for the toys supercategory in 2016, with two higher-priced Star Wars toys, the Sphero App-Controlled BB-8 and Star Wars Millennium Falcon, also in the top ten toys year-to-date.