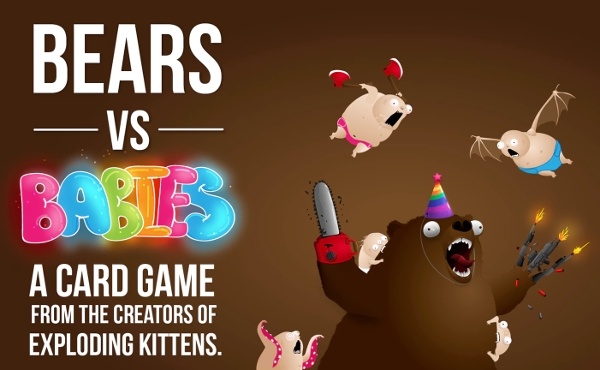 We've got a new #8 on our Top 10 (all time) Tabletop Game Kickstarter chart;
Bears vs. Babies: A Card Game
, from the creators of
Exploding Kittens
, #1 on the chart, was funded on Thursday (see "
'Exploding Kittens' Team Returns with 'Bears vs. Babies'
") at $3,215,679 from 85,581 backers ($37.57/backer).
That's the second highest number of backers of a tabletop game Kickstarter ever, and the lowest dollars/backer in the Top 10.
The last previous update of the chart was in July, when CoolMiniOrNot's
Massive Darkness
came onto the chart at #4.
It's worth noting that the middle of the chart is now very tight, with six games within a few hundred thousand dollars of each other.
Top 10 Tabletop Game Kickstarter Projects as of November 17, 2016

Rank

Title

Total $

Raised

Date

Funded

Backers

Dollars/

Backer

1

Exploding Kittens by Elan Lee

$8,782,571

2/19/2015

219,382

$40.03

2

Dark Souls – The Board Game by Steamforged Games

$5,469,392

5/16/2016

31,178

$175.42

3

Zombicide: Black Plague by CoolMiniOrNot

$4,078,954

6/7/2015

20,913

$195.04

4

Massive Darkness by CoolMiniOrNot

$3,560,642

7/7/2016

22,361

$159.23

5

Dark Heaven: Bones minis by Reaper Miniatures

$3,429,235

8/25/2012

17,744

$193.26

6

Conan by Monolith Board Games

$3,327,757

2/11/2015

16,038

$207.49

7

Joking Hazard by Cyanide and Happiness

$3,245,588

3/10/2016

63,758

$50.92

8

Bears vs. Babies by Elan Lee

$3,215,679

11/16/2016

85,581

$37.57

9

Reaper Miniatures Bones II by Reaper Miniatures

$3,169,610

10/26/2013

14,964

$211.82

10

Zombicide: Season 3 by CoolMiniOrNot

$2,849,064

7/27/2014

12,011

$237.20