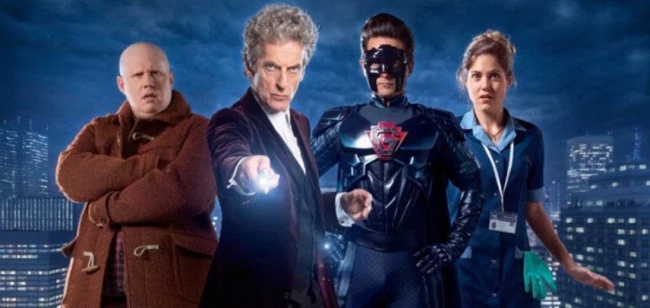 Fathom Events will host a limited two-day theatrical run for the 2016
Doctor Who Christmas Special – The Return of Doctor Mysterio
in late December.
The Doctor Who Christmas Special will air on Christmas on BBC One and BBC America, but Fathom will show the full 60-minute episode at 7:00 PM (local time) on both Tuesday, December 27 and Thursday, December 29 in select theaters nationwide. The episode will also be preceded by an exclusive introduction and followed by a behind-the-scenes look at the making of the special.
For this Christmas special, Peter Capaldi portrays the Doctor, who must work with an investigative reporter (Charity Wakefield) and a superhero to save New York from an alien threat.
The first trailer was released at New York Comic Con (see "First Look at the 'Doctor Who Christmas Special'").