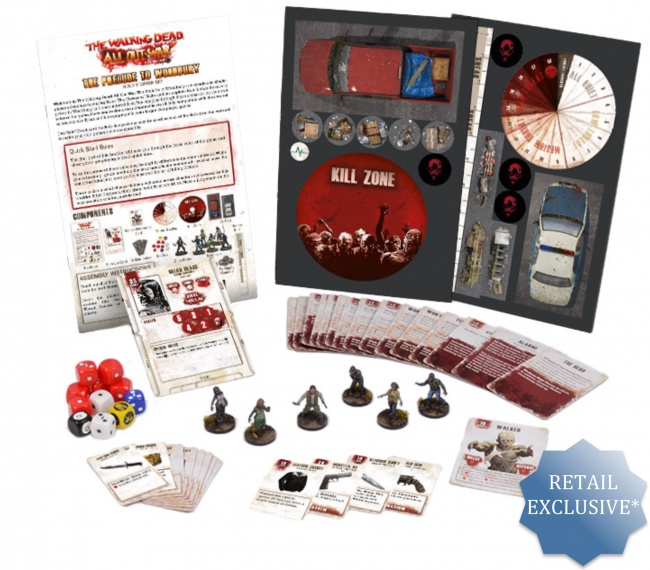 The Walking Dead: All Out War will be enlarged by six new expansion sets releasing in January, including two sets that which were not included in the game's Kickstarter funding campaign.

The first retailer exclusive is The Walking Dead: All Out War – Prelude to Woodbury Solo Starter Set, which offers a single-player scenario that pits Brian "The Governor" Blake against the zombies before he rises to power in Woodbury. This boxed set includes everything needed to play, with six unpainted figures, cards, dice, terrain tiles, and a quick-start tutorial rulesheet designed to teach new players how to play. This is a stand-alone game which is also fully compatible with The Walking Dead: All Out War core set. MSRP is $39.99.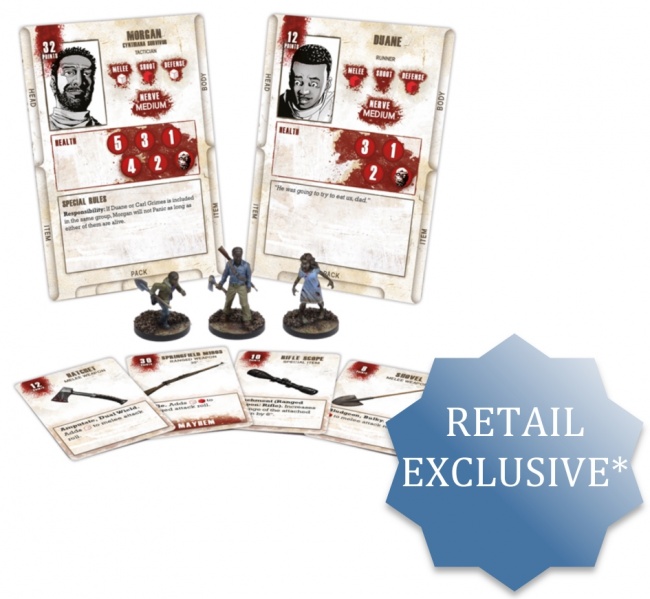 The second is the
Morgan Booster
, which adds the characters Morgan and Duane to the game. It includes their minis plus a Walker zombie and the character and equipment cards needed to add them to the game. MSRP is $19.99.
The other four expansions were available as part of the Kickstarter, and are now being offered through the trade: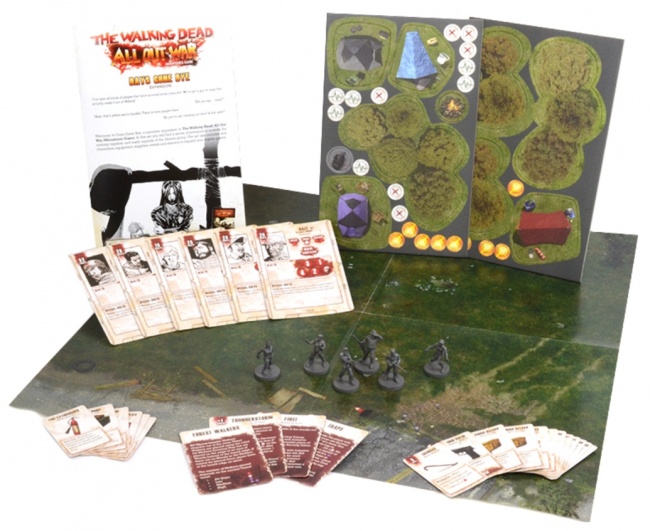 Days Gone Bye
has a new narrative campaign that follows the early events in the comic series. The campaign includes six new scenarios, four new survivor characters (Dale, Jim, Allen, and Donna), two more Walkers, and game boards, tiles, and cards to expand the core game. MSRP is $34.99.
The Shane Booster adds Rick's former best friend Shane as both a survivor and a Walker zombie, as well as the survivor Reggie and the cards needed to use them in the game. MSRP is $19.99.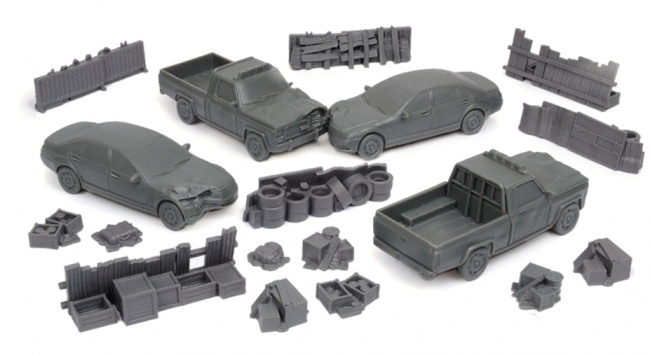 For players who want a more visually appealing battlefield, the
Scenery Booster
includes a variety of plastic scenery pieces for use with the game, supplied assembled but unpainted. This set has four cars, six barricades, and 10 supply counters. MSRP is $34.99.
A Dice Booster with a set of 12 dice and a The Walking Dead: All Out War dice bag is also being offered. MSRP is $19.99.
Mantic Games is heavily supporting the retail release of the new game. In addition to the two retailer exclusive expansions in this wave of releases, the company is sponsoring retail launch events starting December 4 (see "Mantic Plans Retail Launch Event for 'Walking Dead' Game").