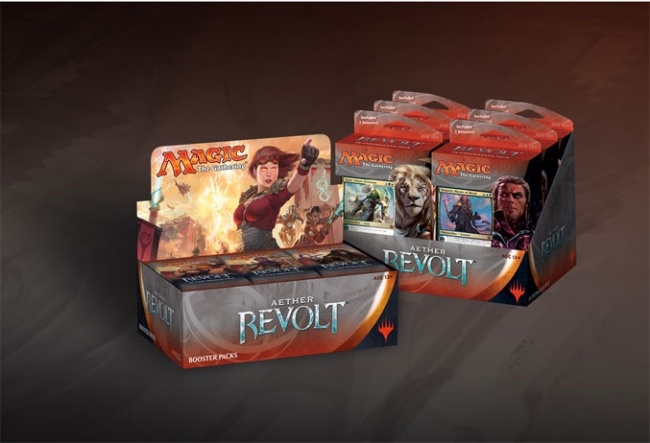 Wizards of the Coast has revealed more details from the first
Magic: The Gathering
set of 2017,
Aether Revolt
, the follow-up to
Kaladesh
(see "
Major Plans for 'Magic: The Gathering'
").
The new set features the revolt of inventors, led by Pia Nalaar, against the rule of the governing Consulate. The 184-card set releases on January 20, 2017. In addition to booster packs (MSRP $3.99 each), there will be several other products supporting the release.
Aether Revolt Planeswalker Decks will each focus on a single planeswalker, either Ajani, Valiant Protector or Tezzeret, Master of Metal. Each contains a ready-to-play 60-card preconstructed deck with a foil copy of the featured planeswalker, two Aether Revolt booster packs, a strategy insert, and a learn-to-play guide. MSRP is $14.99.
The Aether Revolt Bundle is designed to increase engagement with the new set. It includes a card box, a Player's Guide to Aether Revolt featuring a complete visual encyclopedia of the set, 80 basic lands, 10 Aether Revolt booster packs, two deck boxes, a spindown life counter, and a learn-to-play guide. MSRP is $42.99.
Following the conclusion of the Kaladesh block with Aether Revolt, the next block of sets will begin with Amonkhet, releasing in April (see "Plethora of 'Magic' Announcements from Pax").
Click Gallery below for art and sample cards from Aether Revolt.