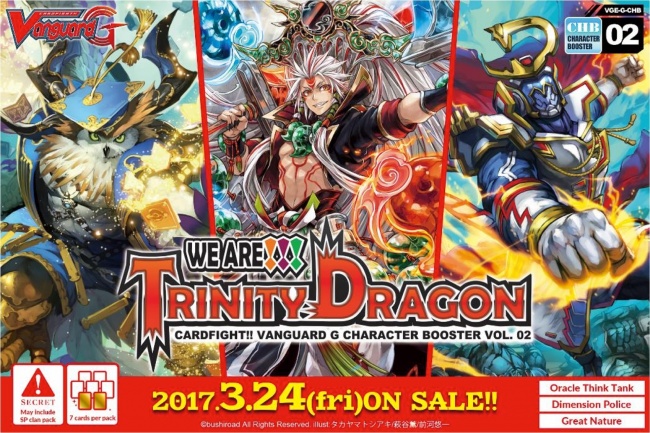 Close on the heels of its first
Character Booster
set for
Cardfight!! Vanguard G
, Bushiroad will release the second installment in the series,
We Are!!! Trinity Dragon
, on March 24.
Like the earlier Try 3 Next Character Booster set (see "'Try 3 Next Character Booster' Comes to 'Cardfight!! Vanguard G'"), We Are!!! Trinity Dragon draws from the Cardfight!! Vanguard G Next anime, this time revealing cards for the protagonists' rival team, Trinity Dragon. This set will include cards for the Oracle Think Tank, Dimension Police, and Great Nature clans, as well as four "Special Reissue" cards with new illustrations: Psychic Bird, Super Dimensional Robo, Daikaiser, Dimensional Robo, Kaisergrader, and Honorary Professor, Chatnoir.
The entire set will include 75 cards, with 72 new cards and 3 reissued cards, of the following rarities: 3 GR, 6 RRR, 12 RR, 21 R, 33 C, 12 parallel SP, and 3 parallel SGR, along with the 4 Special Reissue cards. Each 7-card pack will include two R or higher rarity cards.
Some packs will be "SP Clan Packs", which include seven SP cards
Bushiroad is planning sneak preview events for the weekend of March 17-19. Retailers who want to participate can order
We Are!!! Trinity Dragon Sneak Preview Kits
. Each kit includes 32 booster packs, 9 promo cards, and 2 rubber playmats, enough materials for up to eight players.
(See several card images in the gallery below!)