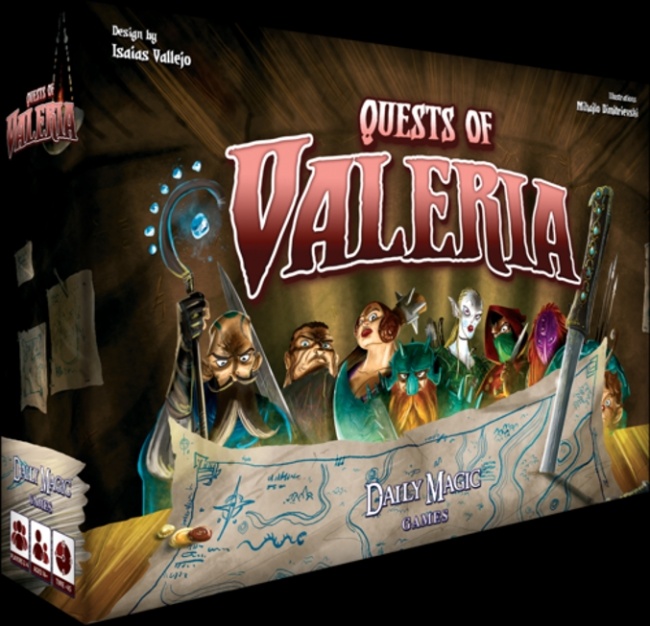 Daily Magic Games' will release
Quests of Valeria
via Hit Point Sales on March 24.
Designed by Isaias Vallejo (Sunrise City, Valeria: Card Kingdoms), the game takes place far from the monster battles and court intrigue, in the taverns where the Guild Masters do the work that keeps the kingdom prosperous – hiring citizens to send on quests. Players take the role of rival Guild Masters, seeking to not only hire the most powerful adventurers to send on quests, but also find ways to leverage their skills to come out on top. Quests of Valeria uses a card drafting system where cards can start out as expensive, but the costs lessen as other cards are acquired.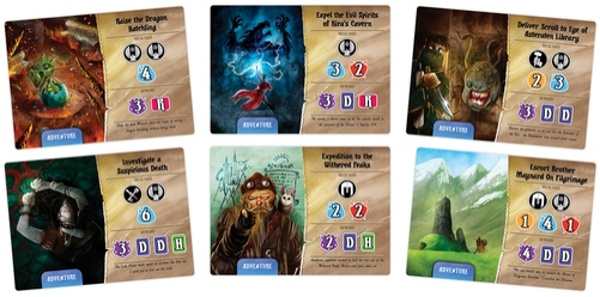 The box contains 84 Citizen Cards, 32 Quest Cards, 6 Guild Master Cards, 5 Player Aid Cards, 2 Action Tokens, 1 First Player Token, 7 Card Cost Tokens and a Rulebook. The game is for 1 – 5 players, ages 14 and up, and plays in 45 minutes. MSRP is $25.00.
The game was funded with a Kickstarter campaign in May 2016 that raised $85,563 from 3,869 backers ($22.12 / backer average). Quests of Valeria takes place in the same universe as Villages of Valeria (see "Return to Valeria in 'Villages of Valeria'") and Valeria: Card Kingdoms (see "'Valeria: Card Kingdoms'").